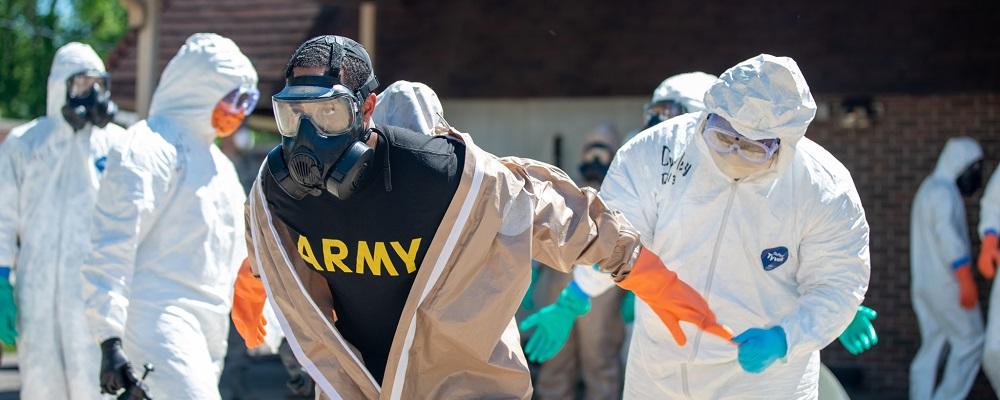 A Guardsman was the seventh service member to die from coronavirus as military cases topped 38,400 last week, according to Pentagon data.
But service members will likely not get priority for a vaccine once one is ready, reported Stars and Stripes, which cited a document outlining the possible order of distribution that was published by the National Academies of Sciences, Engineering and Medicine.
That's despite the Defense Department role in developing and testing potential COVID-19 vaccines, a process that will soon involve trials at five DoD medical facilities.
The latest death came Aug. 20 and was a 36-year-old staff sergeant assigned to California's 40th Combat Aviation Brigade. The name and other information about the soldier has not been released.
Through August, more than 38,400 military cases of the coronavirus had been reported, including 575 hospitalizations, according to the Pentagon. Nationwide, there have been more than 6.1 million cases and more than 185,000 deaths, both of which tops global tallies.
Operation Warp Speed, a government-led, interagency effort to deliver a safe and effective vaccine by January 2021, announced last week that five military locations would host vaccine trials.
Those locations are Naval Medical Center San Diego, Joint Base San Antonio's Brooke Army Medical Center, the Wilford Hall Ambulatory Surgical Center in San Antonio, Walter Reed National Military Medical Center in Maryland, and Fort Belvoir Community Hospital in Virginia.
According to the Stars and Stripes report, officials are developing a four-phased approach to distributing a coronavirus vaccine.
Priority would be given to healthcare workers and those at high risk of contracting the disease, followed by workers in industries critical to the functioning of society, teachers, older adults, those in homeless shelters or group homes and staff or people in prisons or similar facilities.
Phase three would include young adults, children and workers in industries essential to the functioning of society who are not included in phase two. Phase four would include all others residing in the United States.
The military is not included as a population group in any of the proposed phases.