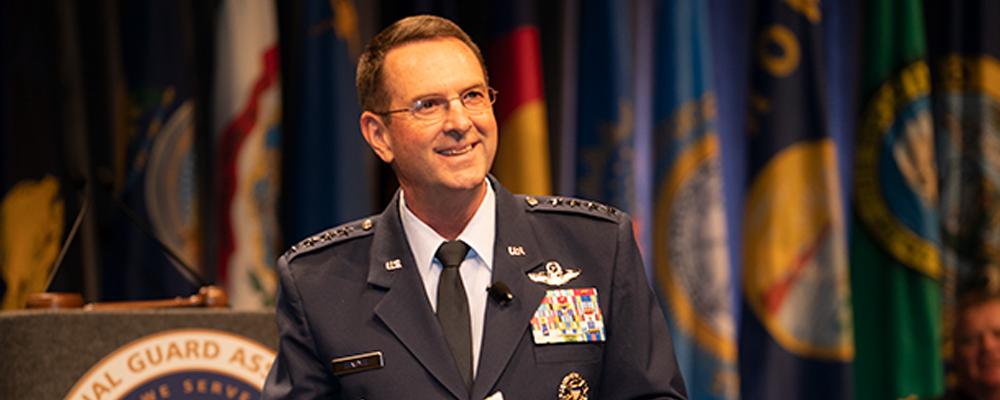 The chief of the National Guard Bureau gave NGAUS credit when he began his State of the National Guard address Sunday in at the 140th General Conference & Exhibiton in New Orleans. 

"We have become one hell of an operational reserve," Gen. Joseph L. Lengyel said. "In many ways, that has been enabled by some of the things this association has done, whether it's through advocacy or legislation to help the men and women in the Army and Air National Guard." 

But the evolution of the Guard from a strategic to an operational reserve has come with a cost, he said. He used a visit this month to the National Training Center to watch the 56th Stryker Brigade Combat Team of the Pennsylvania Guard. He said company commanders and others told him they spent 80 to 85 days preparing for the rotation.  

"It was evident to me that the soldiers didn't have a problem doing it, but they were concerned about their employers," Lengyel said. "That is a leadership challenge that we have." 

He said it is a challenge that must be met and encouraged Guardsmen to tell the National Guard Bureau what it can do to help. He said it would be difficult to maintain readiness for the missions of the Army in less time than the Pennsylvania Guardsmen required. 

"We need to look at this," he said. "We need to find that magic stew of what is the right way so we can maintain our contract with our families and employers." 

The Guard has to find the right combination of pay, benefits and bonuses to retain an operational force. He pointed out later that recruiting is a problem, especially in the Army where none of its components will make end-strength this year. 

"Without a doubt . . . there are people who are having trouble with this kind of operational tempo," he said. 

It's a challenge, he said, that the Guard can overcome and must overcome.