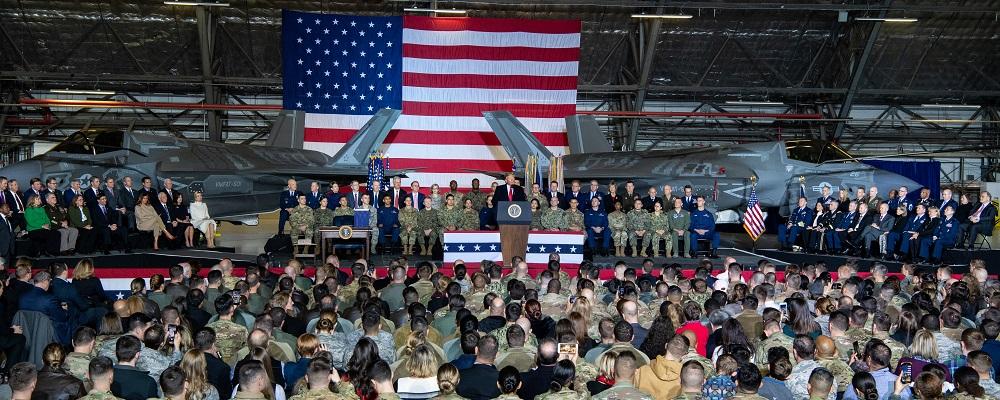 Leaders of the House and Senate Armed Services committees met last week to officially begin hashing out a compromise National Defense Authorization Act.
The "Pass the Gavel" meeting was held behind doors as leaders shared priorities and sought resolutions between bills passed separately by the House and Senate earlier this year.
One of the stickiest issues seems to be a provision to force the DoD to rename military installations honoring Confederate leaders.
Both versions of the NDAA include such language, but President Trump has threatened to veto the legislation if it is included in the final bill. He has garnered the support of key Republicans, including Sen. Jim Inhofe, R-Okla., the SASC chairman.
Another topic of debate is possible limitations on troop reductions in Afghanistan. The House version of the NDAA would limit such a drawdown, which Trump has already announced would take place by Jan. 15. The Senate version did not impose such restrictions.
Conference committee members met for the first time as a group on Nov. 18, with Inhofe and ranking SASC Democrat, Sen. Jack Reed, D-R.I., leading the meeting alongside HASC leaders, chairman Rep. Adam Smith, D-Wash., and ranking Republican Rep. Mac Thornberry.
The meeting continued the bipartisan spirit that has long been a trademark of the NDAA, Inhofe said. He noted that an NDAA has been enacted for 59 years in a row.
The Senate version of the NDAA passed in July by a vote of 86-14. The House version passed that same month by a vote of 295-125.
HASC leaders announced 19 Democrats and 13 Republicans would represent the committee during the negotiations. SASC officials have not announced their participants.
HASC members of the conference committee include Smith; Rep. Susan Davis, D-Calif.; Rep. James Langevin, D-R.I.; Rep. Rick Larsen, D-Wash.; Rep. Jim Cooper, D-Tenn.; Rep. Joe Courtney, D-Conn.; Rep. John Garamendi, D-Calif.; Rep. Jackie Speier, D-Calif.; Rep. Donald Norcross, D-N.J.; Rep. Ruben Gallego, D-Ariz.; Rep. Seth Moulton, D-Mass.; Rep. Salud Carbajal, D-Calif.; Rep. Anthony Brown, D-Md.; Rep. Ro Khanna, D-Calif.; Rep. William Keating, D-Mass.; Rep. Filemon Vela, D-Texas; Rep. Andy Kim, D-N.J.; Rep. Kendra Horn, D-Okla.; Rep. Gil Cisneros, D-Calif.; Thornberry; Rep. Joe Wilson, R-S.C.; Rep. Mike Turner, R-Ohio; Rep. Mike Rogers, R-Ala.; Rep. Doug Lamborn, R-Colo.; Rep. Rob Wittman, R-Va.; Rep. Austin Scott, R-Ga.; Rep. Vicky Hartzler, R-Mo.; Rep. Elise Stefanik, R-N.Y.; Rep. Trent Kelly, R-Miss.; Rep. Mike Gallagher, R-Wis.; Rep. Don Bacon, R-Neb.; and Rep. Jim Banks, R-Ind.
Wilson is a former Guardsman. Kelly is currently serving as a brigadier general in the Mississippi Army Guard.