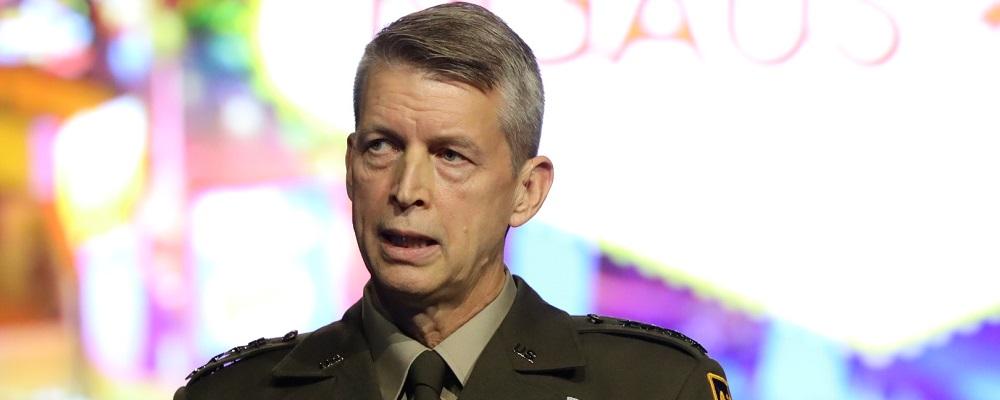 Always Ready, Always There is more than a motto, Gen. Daniel R. Hokanson told attendees of the 143rd General Conference & Exhibition on Saturday. It's a promise.
Hokanson, the chief of the National Guard Bureau, gave a "State of the National Guard" address as part of the conference's first professional development session.
During his remarks, Hokanson related the story of Chief Warrant Officer 4 Kevin Keeler, a Nevada Army Guard helicopter pilot credited with locating a missing firefighter separated from  his crew at the massive Bootleg Fire in Oregon on July 18.
Keeler, of Las Vegas, was on a reconnaissance flight when he received the report of the missing firefighter. He was able to fly his UH-72 Lakota amid the smoke and flames to find the firefighter about 1.5 miles from his crew.
"At that critical moment, Kevin was ready and he was there. And that's our promise always ready, always there for our nation, for our communities and for each other," Hokanson said.
"These four words represent so much yet only those who have lived it understand what it takes to uphold those words," the general added. "When we say always ready, always there, we're talking about the dedication of a volunteer force. Attracting the best people and retaining our top talent having the right training to accomplish any mission and having the right equipment to meet combatant command requirements — all of this while maintaining a sustainable balance between your family, your civilian career and your military service."
There have been many Guard soldiers and airmen who have answered the call over the past 18 months, from combat operations to COVID-19, overseas deployments to hurricanes, wildfires to civil disturbances, the Capitol response, floods, search and rescue, and cyber support.
Hokanson said those efforts have been unprecedented and thanked the soldiers, airmen, National Guard families and Guard supporters who have made mission success possible.
But the Guard is not resting on its laurels. Hokanson said the National Guard Bureau, working with each of the 54, are working to improve and prioritize efforts to bolster the Guard force.
"For all of our accomplishments and efforts over the past year, the future looks even more challenging," he said.
The nation is entering a new phase of warfare, with the National Guard having a role in every aspect, from competition to crisis. And while the wars in Iraq and Afghanistan, which helped transform the Guard into a strategic reserve, are ending, the force does not anticipate a significant change in deployment.
In fact, Hokanson said, officials anticipate a slightly higher operational tempo for the Guard as the military continues to lean on its primary combat reserve. At home, there is no shortage of domestic operations, from the ongoing pandemic to storms, wildfires, floods and other events.
Keeping pace with those challenges will not be easy in a time of limited resources, the general said. The force will need to be deliberate with its funding and focus on the four priorities of people, readiness, modernization and reform.
"We're really good at what we do and we need to document what we learn and standardize and share our procedures where we haven't already," Hokanson said. "We've made a promise to our nation, Always Ready, Always There. In order to keep that promise, we must focus our efforts at the National Guard Bureau on what is most important."
Hokanson briefly highlighted some of those efforts, including:
Advocating for health care for all Guardsmen, an estimated 14% of Guard soldiers and airmen have no medical coverage;
Resourcing mandatory requirements beyond drills and annual training to ensure soldiers and airmen are compensated for time away from families and employers;
Consolidating and prioritizing mandatory training requirements to one drill weekend a year or as close as possible;
Modernizing equipment, personnel, training and processes to ensure interoperability with the joint force;
Developing a long-term strategic plan for the State Partnership Program, including planning for the next 30 potential partners; and
Advocating for the creation of a Space National Guard.