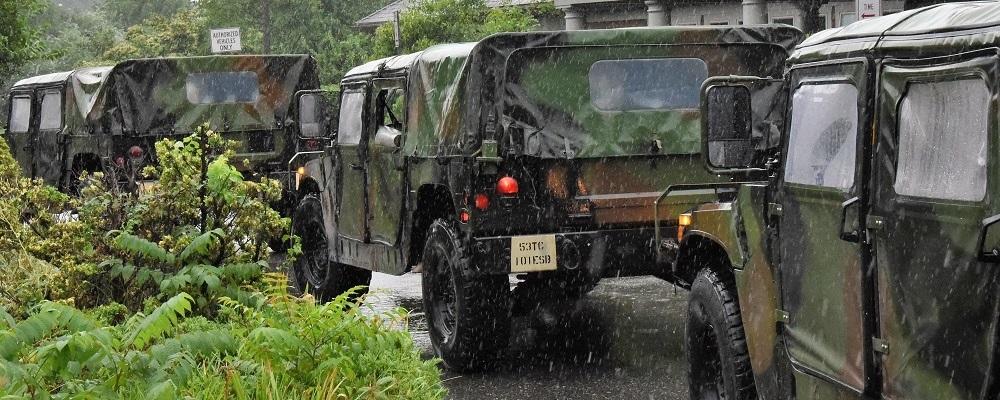 Hundreds of National Guard soldiers and airmen were activated over the weekend to help with the response to Hurricane Henri, which drenched the Northeast, knocking out power to thousands and causing flooding in some communities.
In all, thousands of Guardsmen continue to serve on domestic missions, which include other storms that have caused damage in the homeland, the ongoing COVID-19 mission and wildfires in the western United States.
The governors of Massachusetts and New York put Guardsmen on standby ahead of Henri, while urging residents to take necessary precautions.
In New York, 500 soldiers and airmen were activated to respond to any state requests for assistance during the storm.
Other Guard forces were also responding to severe weather events in their home states.
In Tennessee, Guard soldiers and airmen were called to service to work with state and local emergency responders following flash flooding in Humphreys County. The effort included the state's Helicopter Aquatic Rescue Team and UH-60L Black Hawk helicopters from the Nashville-based 1st Air Cavalry, 230th Aviation Regiment, which conducted water rescues across the impacted area.
Nearly 50 soldiers, along with 12 light medium tactical vehicles capable of traversing flooded areas, were also responding, as were medical and communications troops.
And as of late last week, nearly 1,000 California Guard troops, as well as an additional 120 Guardsmen from Nevada, Wyoming, Colorado, Wisconsin, West Virginia and Louisiana, continue to battle actively burning wildfires throughout the state.
That includes the Dixie Fire, which at more than 630,000 acres is the largest fire currently burning in the state and the second-largest in the state's recorded history. To date, the Dixie Fire has destroyed more than 1,200 structures.
The Guard efforts include staffing traffic control points and flying aerial missions to include firefighting efforts, medical evacuation and fire mapping and damage assessment.
All eight of the nation's Modular Airborne Fire Fighting System-equipped C-130s, all of which are flown by the Air Guard and Air Reserve, are currently in California to battle the fires.