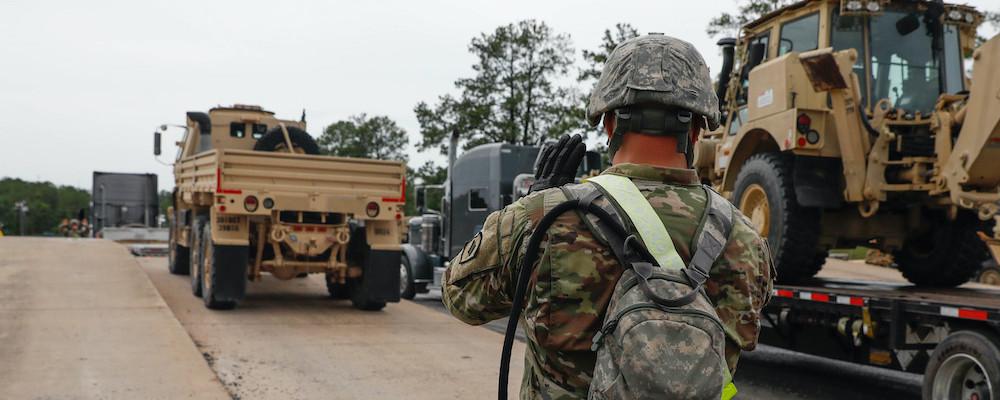 A day after President Joe Biden said he would consider using the National Guard to deal with national supply chain issues, White House officials walked back the remarks.
Press secretary Jen Psaki said using the Guard to help with the ongoing issues was not currently being considered.
"Any president has the ability to use the National Guard from the federal level. Requesting the use of the National Guard at the state level, which is often how it's done, is under the purview of the governors and we're not actively asking them to do that and we're not actively pursuing the use of the National Guard on a federal level," she said.
"But it is something that any president would have the capacity to do, the authority to do, but it is not something under active consideration," she added.
Speaking last week, Lt. Gen. Jon Jensen, the director of the Army Guard, said he was aware of discussions over using the Guard to address supply chain issues. He said it was something the Guard would be prepared to support, if needed, however, he said he was not exactly sure what missions the Guard could potentially be tasked with.
Earlier this month, Sen. Tommy Tuberville, R-Ala., told a crowd at an Alabama breakfast hosted by the Mobile Area Chamber of Commerce that he foresaw Guardsmen being put into service as truck drivers to ease a national logjam of commercial goods, according to AL.com.
"I think probably what's going to have to happen is states are going to have to get involved with National Guard, the military, into transportation for a short period of time where we get back on our feet," Tuberville said.
Biden's remarks came during a CNN town hall event. He was asked if he would consider having Guardsmen drive trucks amid a nationwide shortage of drivers.
"The answer is yes, if we can't move to increase the number of truckers, which we're in the process of doing," he said.