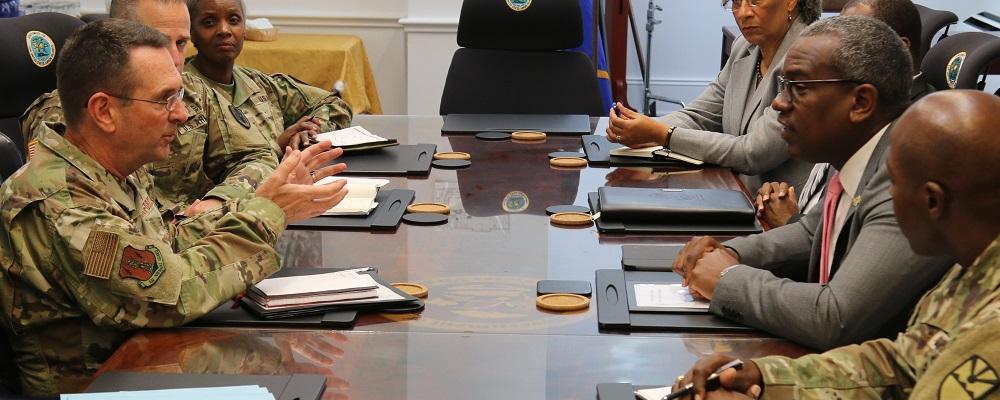 The chief of the National Guard Bureau spoke at length about the Guard's role in fighting the COVID-19 pandemic during remarks to the Atlantic Council last week.
Gen. Joseph Lengyel appeared via video chat during the organization's Commanders Series. 
While many Guard missions are similar to those undertaken during past emergencies, Lengyel said others have been more unique and have required Guard leaders to share best practices across state lines.
Those unfamiliar missions include distributing personal protective equipment, sanitizing public buildings and nursing homes, and virus testing. Lengyel said Guardsmen would likely need to continue these missions into the future.
Meanwhile, Guardsmen are also preparing for the upcoming Hurricane season. Lengyel's remarks came before widespread deployment of Guard forces in response to civil unrest in many states.
The pandemic has impacted the Guard's readiness and its ability to conduct normal operations, but Lengyel said the pandemic has also provided an opportunity for continuous improvement.
"The ability to manage the force in each location, in each of the 54 states [territories and the District of Columbia] as the environment dictated in those states was key and remains key to the efficient utilization of our assets, to do what needs to be done, to mitigate this COVID virus," the general said. 
Lengyel said the Army Guard will meet its recruiting goal for 2020, finishing the year with an end-strength of 336,000. The Air Guard is currently on pace to come very close to meeting its objective.
"I think one thing that's helping us is the economy," the general said. "I think maybe people are concerned about that. So, our retention is a little bit higher than normal, or other people who had made the decision [that] it was time to go to the civilian world, some of them are rethinking that or putting that off for a year or two to see how this plays out."