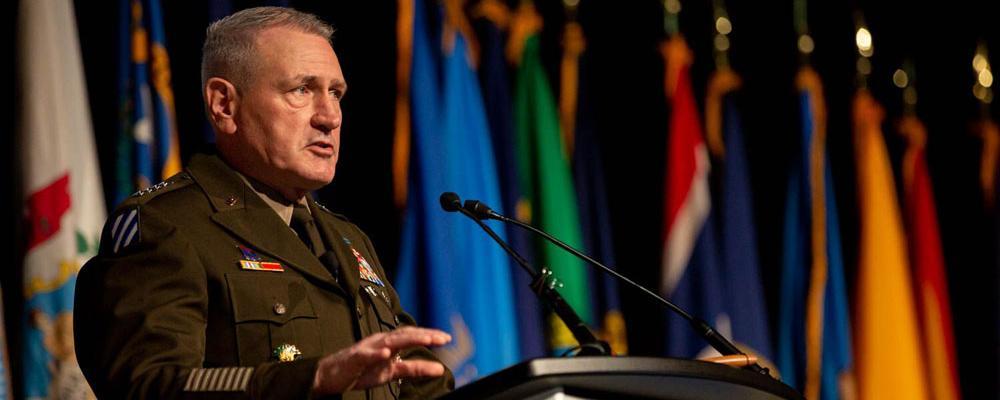 Gen. John M. Murray leads the Army's newest major command. And in Denver on Sunday, he came to NGAUS looking for help.
U.S. Army Futures Command, based in Austin, Texas, has quickly grown in its first year, from a staff of just a dozen soldiers and civilians to more than 25,000. The command has a broad mission of preparing the Army for future battlefields by leading the development of new capabilities, structures and concepts.
But that force still pales in comparison to the network of the National Guard, with armories in more than 2,600 communities across the nation.
Murray said he is reaching out to adjutants general from across the force, asking for help incorporating Guardsmen into the process of modernizing the Army.
Those soldiers, he said, could provide valuable feedback that can help shape future systems and fundamentally change how the Army prepares for its future.
Soldiers are currently testing new systems to increase the range of artillery, improve the situational awareness for ground commanders and develop new combat vehicles. Some of those tests are taking place amid training around the nation. Other testing is planned for a new prototyping facility being constructed by Texas A&M.
Murray said soldiers are needed to provide feedback early in the process.
"I don't really care if they come from Fort Hood, or the 36th Infantry Division or Arkansas, or for that matter, Maine," he said.
Murray said the Guard played a key role in inspiring his own service. In Kenton, Ohio, the Guard armory was in the center of the town and was Murray's only exposure to the Army prior to his joining the force.
Now, he's overseeing the Army's six modernization priorities while helping to prepare the force for decades into the future.
Maj. Gen. Donald Dunbar, NGAUS chairman of the board, likened Murray's mission rebuilding an airplane mid-flight.
"Imagine an airplane flying, doing its mission and being charged with, while the airplane is flying, having to recreate it, restructure it, modernize it," he said. "Think about the future and make sure that while not skipping a beat today, that airplane can do its mission in the future."
Murray said Futures Command is leading a push to revolutionize how the Army does business.
He said the Army requires "generational change" to catch up to modernization lost when the force was focused on counter-insurgency operations.
Instead, the force must undertake perpetual or persistent modernization, evolving at the pace of new technologies and ways of thinking.
Stable, predictable funding aids those efforts, as does a commitment from military leaders to modernize the force in the face of growing threats and capabilities from potential adversaries.
Emerging technologies will change the character of war, Murray said. The nation that determines how to combine those technologies in a unique manner will have be a step ahead for future fights.
Of particular concern is developments in artificial intelligence that could eventually help commanders manage battlespace, deconflict airspace and weed through a deluge of misinformation.
He specifically cited China's efforts in the AI field as the No. 1 most dangerous technology being developed by potential adversaries.
"The nation that develops the capability on the battlefield to understand first and act first will have significant advantage," Murray said.
"It's not a question of it," he added. "It's a question of when."
In addition to soldiers, Murray said the Army will rely on America's industry base for their innovation and knowledge. The Army is working to streamline its acquisition process to keep pace with changing technology and requirements.
Working with a moving target won't be easy, he said. The force will make mistakes. And that's okay.
"We just have to be more right than we are wrong," Murray said.