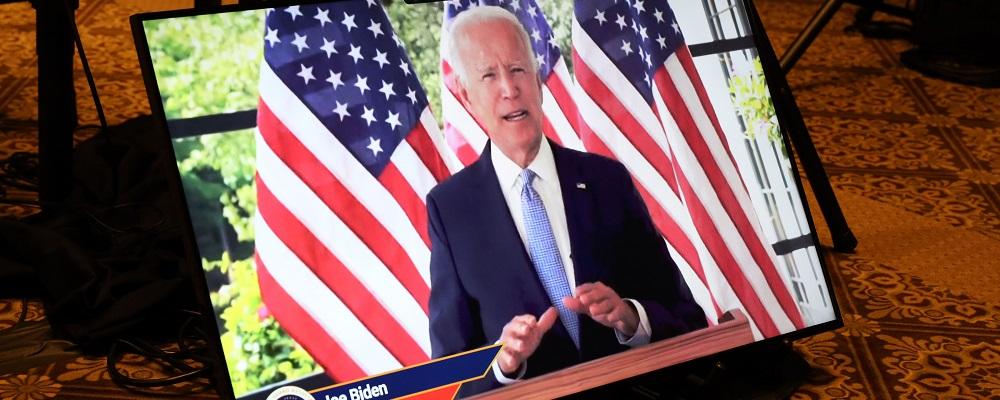 Former Vice President Joe Biden called the National Guard the "backbone of our nation" during remarks to current and former Guardsmen at the 142nd General Conference.
The Democratic nominee for president, Biden's remarks from his home state of Delaware were livestreamed across the nation as part of the virtual event.
He spoke of his late son, Beau, who served in the Delaware National Guard, and made several promises for if he is elected president this November.
NGAUS invited Biden and President Trump to speak at this year's conference. The association has had at least one candidate as a guest speaker at every election-year conference since 1992.
The White House declined the invitation. Instead, Trump flew to Louisiana and Texas to tour communities damaged by Hurricane Laura.
Biden said speaking to NGAUS was personal for him and his entire family.
"We're a National Guard family," he said, referencing his son, Maj. Joseph R. "Beau" Biden III, who died of cancer in 2015.
Biden praised the National Guard for its efforts over the past two decades, and in particular for recent months, when the Guard has deployed to stem the COVID-19 pandemic and to protect citizens and property amid civil unrest, all while continuing overseas missions and deploying in response to natural disasters.
"You place your community and country ahead of your personal comfort," he said. "And when the need arises, you leave your families and your job and drop everything when the call comes."
Beau knew that duty and service makes life great, Biden said. And Guardsmen across the nation know that, too.
"We ask you to do as much when you deploy as a National Guardsman as any other branch, regular or reserve," he said. "If elected, I will be a commander-in-chief who understands the full meaning of duty, the full sacrifices made by the Guard."
Biden also pledged to never ask the Guard to go into the field with outdated equipment and promised needed health care, including mental healthcare, for Guardsmen when they return from missions.
"I'm going to make sure the National Guard gets what they need to proudly serve our country," he said.
Biden criticized his November opponent for the White House.
He attacked the president's handling of the COVID-19 pandemic and ongoing civil unrest over racial inequality and alleged police brutality.
Biden also bashed the president for his decision to require most states to pay for the ongoing Guard COVID-19 response and for diverting $1 billion in funding from the National Guard earlier to pay for a southwest border wall.
"You deserve so much better than this," Biden said.
He said the nation has many responsibilities, but just one sacred obligation — to properly train and equip men and women before they deploy into harm's way and to care for their families at home.
"I'll never put you in the middle of politics and personal vendettas," Biden added. "And I'll never use the military as a prop or as a private militia to violate the rights of protestors."
If elected, he said, troops and their families "will never have to wonder what side I'm on."