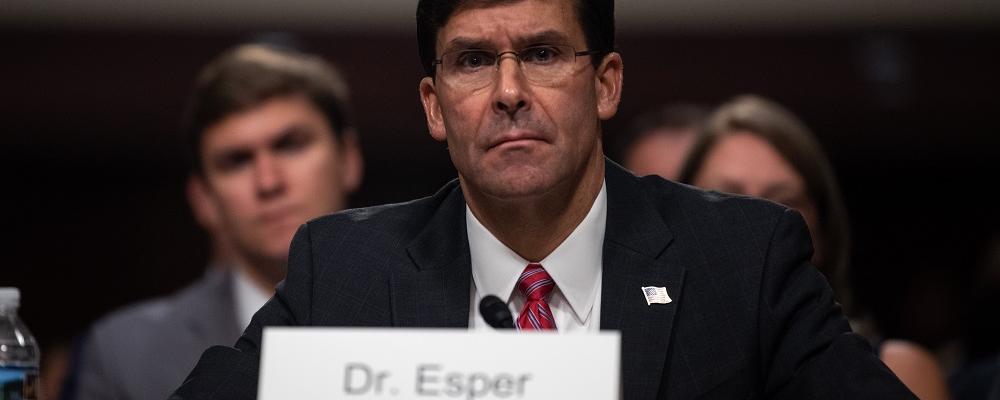 The Senate today confirmed former Army Secretary Mark Esper to be the next secretary of defense. He is the first non-acting defense secretary since Jim Mattis resigned at the end of 2018.
He is also the first former Guardsman to hold the post. Esper served in the Army for 21 years, serving 10 years in the active component and 11 years in the Army National Guard and Army Reserve.
A retired lieutenant colonel, he served with Virginia and the District of Columbia during his Guard career. A 1986 graduate of the U.S. Military Academy, he is also a veteran of the Gulf War and a former senior executive at the Raytheon Company.
Esper served as Army Secretary since late 2017. He is to be sworn in as defense secretary late Tuesday.
In a confirmation hearing before the Senate Armed Services Committee last week, Esper answered several questions related to the Guard and the role of the Guard in future defense efforts.
He spoke out in support of the Army and Air Guard having a role in a future Space Force and said the DoD has a plan to leverage National Guard cyber resources and capabilities to expand partnerships in critical sectors where the DoD and private sector have shared interests.
In a conversation with NATIONAL GUARD that was published in the magazine's May edition, Esper also spoke of the importance of fielding new equipment based on deployment timelines, not based on component. Esper is a former member of NGAUS.
Esper is set to become the 27th defense secretary. Four other men, and Esper himself, have held the post on an acting basis.
Of those men, seven served in the Navy, seven served in the Army, two served in the Marine Corps, one each served in the Army Air Corps, Army Reserve and Air Force and 10 had no military experience.