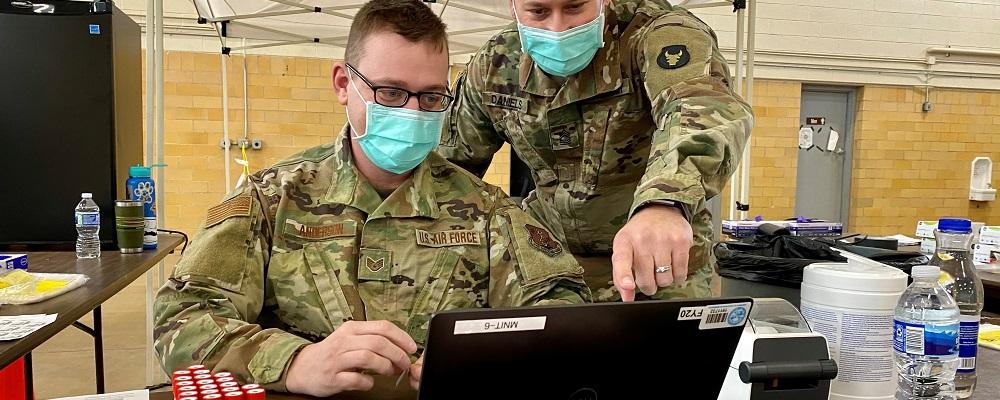 President-elect Biden has committed to extend and fully fund the National Guard's state-based coronavirus response once he takes office Jan. 20.   
"It costs a lot of money and governors need that paid for," Biden said Thursday during a press conference following a video call with a bipartisan group of governors. "The fact is that this is a national emergency — that's what FEMA is supposed to deal with. When it comes to deploying the National Guard for COVID relief, that should be paid for."
President Trump has approved 46 states and three territories to employ Guard soldiers and airmen under federal Title 32 for COVID-19 response.
All missions must be on the Federal Emergency Management Agency-approved list. They include distributing food and protective equipment, staffing test sites and call centers, and disinfecting long-term care facilities.  
Early iterations of the Guard response covered all costs, but the current authorization, which expires Dec. 31, requires every state and territory but Florida and Texas to fund 25% of pay, allowances and other expenses.
At its height in May, more than 47,000 Guard soldiers and airmen were on COVID-19 duty. The figure dropped to below 18,000 in October but has increased to more than 20,000 as states respond to a surge in infections and hospitalizations.  
Nearly 40 states have requested an extension to the federal support, according to the National Guard Bureau, many until March and some through June.
The White House has not committed to extension but could do so in the coming weeks.
State officials and some in Congress fear a possible three-week funding gap between the end of the year and when Biden is sworn in should Trump let funding lapse.
"The inauguration isn't until late January, so does all of this have to come to a crashing halt?" Maj. Gen. Matt Quinn, the adjutant general of Montana and the president of the Adjutants General Association of the United States told POLITICO. "It will have a significant negative impact on the states."
He told the publication that such a lapse could not only create a void in the response, it would also harm the Guardsmen who are involved.
"These soldiers and airmen need to be able to know whether they can count on the income they're getting from doing this duty or have to go back to their previous employers," he said. "If we send them home and then there's a three-week break and then we get the word that we can pull them back in — that's really not fair to them."
Without an extension, the Guard response actually might end closer to the middle of December. Guard soldiers and airmen would have to come off the front lines as early as Dec. 17 to begin an up to 14-day quarantine. Accrued leave will hasten the departure for some.  
Meanwhile, FEMA has added vaccine distribution to the Guard COVID-19 mission list, according to the National Governors Association.