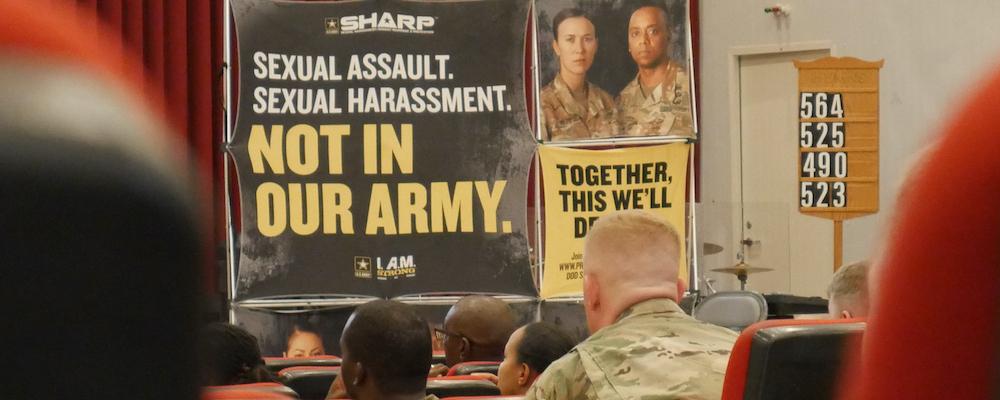 The Army will soon launch a one-year pilot program designed to improve services for sexual assault victims.
The pilot, part of a planned redesign of the Sexual Harassment/Assault Response and Prevention program, will take place on six installations and the Army Reserve. The Army National Guard is not involved while under state authority.
Army officials last week announced the pilot, which involves establishing a fusion directorate designed to care for, protect and empower victims. The director will offer an additional reporting mechanism and coordinated medical, investigative, legal and support services that are independent of a victim's immediate command.
In a letter to the force, Army senior leaders said the pilot is part of an unprecedented review of how the Army cares for its people that has taken place over the past year and a half.
"We have identified that structural changes are needed in the Army's Sexual Harassment and Assault Response and Prevention (SHARP) program," said Army Secretary Christine E. Wormuth, Army Chief of Staff Gen. James C. McConville and Sgt. Maj. of the Army Michael A. Grinston.
"The Fusion Directorates will prioritize victim care by integrating and synchronizing multiple response functions, increasing transparency of the sexual assault adjudication process, and providing an alternate independent reporting process outside the immediate chain of command," they said.
Officials said the Guard is not currently participating due to the complex, joint nature of the organization.
"The National Guard serves a unique dual mission across 50 states, three territories and the District of Columbia, each with their own laws," according to an Army release. "There are multiple types of duty statuses for Guard soldiers, who can be deployed by their state governor or the federal government. However, all components, including the National Guard, are actively involved in the planning effort to ensure that the fusion directorate model will work Army-wide."
Officials said the Guard will develop a product that "meets the intent of the fusion directorate" that will include both the Air Guard and Army Guard.
The pilot programs will begin in October at Aberdeen Proving Ground, Maryland; Schofield Barracks, Hawaii; Fort Bragg, North Carolina; Fort Irwin, California; Fort Riley, Kansas; and Fort Sill, Oklahoma. The Army Reserve's 99th Readiness Division will also participate.
Army leaders said the pilots will "inform future decisions on enduring program changes, possible expansion of Fusion Directorates to additional installations, and the building of a similar capability in the Army National Guard."
"Our Army needs your help and support as we test this new approach to improving our response and support to victims of sexual harassment and sexual assault," they said. "We all have a responsibility to ensure soldiers, civilians and family members feel comfortable raising allegations of sexual harassment or sexual assault, know where and how to access services, quickly receive care and protection, and are treated with dignity and respect throughout the process."