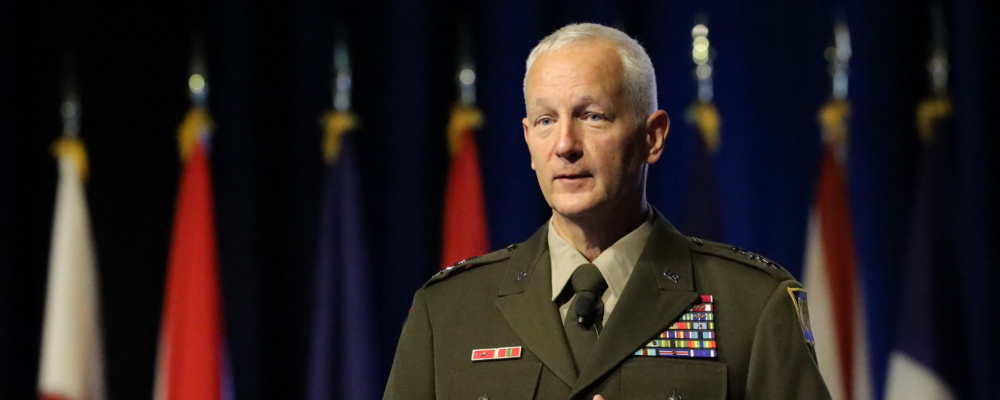 The first mission of the director of the Army National Guard is ensuring the force has the personnel end strength needed to accomplish its missions.
On Monday, Lt. Gen. Jon A. Jensen, the Army Guard director, praised the force for once again exceeding those end strength goals.
Filling the force is even more important given the expectation for tight future budgets, he said.
"There can't be any discussion of 'The Guard can't do this because they're under strength,'" Jensen said. "The Guard can do anything. We have shown that throughout our entire history."
Jensen's praise came during the Army Separate Session on Monday morning, the last day of the four-day 143rd General Conference & Exhibition in Las Vegas.
Last year, Jensen said the Army Guard exceeded its end strength goals through recruiting and retention by 100 soldiers. This year, the force has already exceeded its goal by about 900 soldiers and is on pace to reach 1,100 or 1,200 above its goal.
While not every state is meeting its goals for force structure authorization, Jensen said it was important to celebrate the Army Guard's success.
"Readiness starts with personnel readiness and personnel readiness starts with end strength," he said. "If we want to live up to Always Ready, Always There, the first thing we have to do is fill our units."
End strength was the first of several topics discussed by Jensen, who also praised ongoing Guard disaster relief efforts in Louisiana and Haiti and the numerous Guard missions across the nation in the past year.
Other topics included ongoing division realignment, mandatory training requirements and safety.
The Guard is formalizing relationships between division headquarters, brigade headquarters and states to rebuild eight combat divisions, nearly doubling the Army's number of combat divisions.
Jensen praised those efforts, but said the regional model the Guard has used to this point will need to be reworked because of Army needs.
Army leaders have asked the Guard to provide two heavy divisions and two light divisions. The Guard has five armored brigades and two Stryker brigades, currently spread across five of the eight divisions.
Options will be briefed to Gen. Daniel R. Hokanson, the chief of the National Guard Bureau, later this week, he said. A revised plan will likely be briefed to adjutant generals in October.
Jensen also addressed calls from Hokanson to limit mandatory training to one drill weekend, or as close as possible.
Jensen said that as Army Guard director, he is not a commander and lacks the authority to publish a document that would outline mandatory training for every state and territory.
Instead, he said adjutants general should take the lead in creating plans that will best serve their formations.
"That's not my job. That's what TAGs do. TAGs have all the authority in the world to do that," Jensen said. "I can't produce a list that's going to meet all the needs of the 54."
Jensen and Command Sgt. Maj. John F. Sampa, the Army Guard's senior enlisted leader, also urged Guard leaders to do more to take care of their soldiers.
Sampa introduced a 3x5-card initiative meant to get soldiers talking about suicide, sexual assault and harassment, and physical fitness. While Jensen urged commanders to reenergize safety efforts that might have been overlooked this year amid numerous Guard missions.
Jensen said he is shocked by the number of Guard soldiers lost each week to suicide and accidents.
He asked Guard leaders to look inside their organizations to reassess their safety messages in hopes of preventing future deaths.