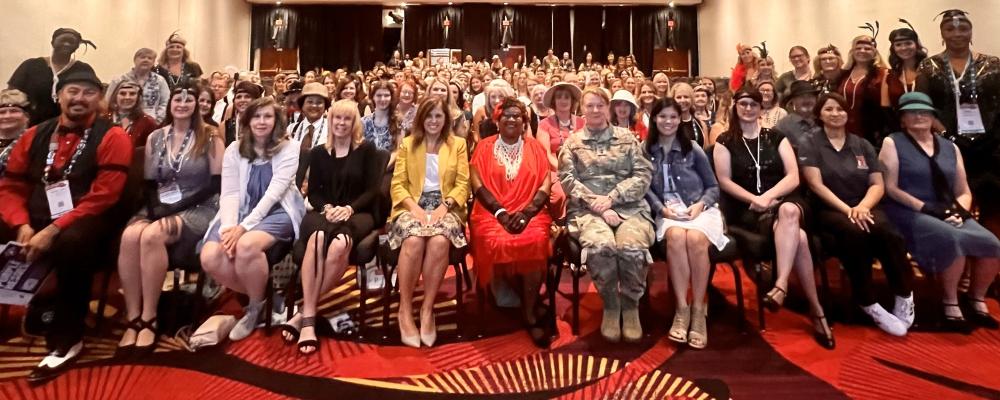 More than 200 spouses of National Guard officers participated in the first NGAUS Spouses Seminar on Sunday at the 145th General Conference & Exhibition in Reno, Nevada.
The event covered the critical role spouses play in helping preserve the physical, mental and emotional health of their partners in the Guard.
Kelly Hokanson, the wife of Gen. Daniel R. Hokanson, the chief of the National Guard Bureau, co-hosted the seminar with Margo Berry, the wife of Maj. Gen. Ondra Berry, the adjutant general of Nevada and the association's vice chairman-Air.
Both women described how nurturing the relationships between service members and their spouses will improve the Guard's recruiting, retention and readiness.
"We all need to carry the water," Kelly Hokanson said. "This is grassroots.
"You cannot have a great country without having a great military," Margo Berry added. "You cannot have a great military without taking care of those who take care of us."
Among the participants was Patty George, the spouse of Gen. Randy A. George, the Army's new senior officer, who also addressed the association's conference Sunday.
According to Kelly Hokanson, childcare is impacting the Guard's talent pool as it challenges service members and their families.
"Not everybody has a spouse available on the weekend, as you know, to watch the children," she said.
"Retention is becoming a problem," Kelly Hokanson continued. "Some families are deciding to get out."
Kelly Hokanson encouraged Guardsmen to develop close relationships with their state's family program director.
Besides the Guard's family initiatives, Sunday's proceedings also covered suicide prevention, health care, well-being, interpersonal communication and more.
The seminar's other participants included Chaplain Todd Brown, the Nevada Guard's state chaplain, and Maj. Gen. Wendy B. Wenke, the NGB's director for manpower, personnel, recruiting services.
Wenke said the Guard must consider how dispersed the service's personnel are nationwide when dealing with concerns like childcare.
"Several states have a large populace in one area," she said. "Some people are way out there. That's what the Guard is — we're everywhere in 1,700 locations."
Kelly Hokanson, a former health educator, added her husband and her will continue pushing premium-free medical and dental care for Guardsman.
Gen. Hokanson, a member of the Joint Chiefs of Staff, has long sought zero-cost TRICARE, a goal NGAUS also considers a legislative priority.
"When my husband and I stand up and say these health and wellness concerns matter, we mean it whole-heartedly," Kelly Hokanson said. "This is the long game."
While the Spouses Seminar covered serious topics, the event also had light-hearted moments.
The seminar preceded the conference's Spouses Luncheon, which had a 1920s speakeasy theme. Many participants came dressed for lunch.
— By Mark Hensch