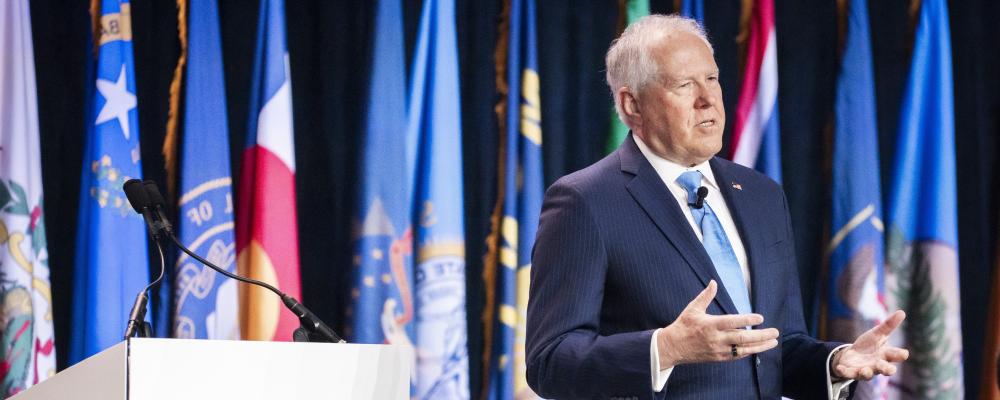 Air Force Secretary Frank Kendall told the 145th General Conference & Exhibition in Reno, Nevada, that he was "hoping" Congress would decide whether to create a Space National Guard under the Space Force.
But with the future of the Guard's space personnel undetermined, Kendall said that settling the matter has become urgent.
"I have been hoping that Congress will solve this problem for me," he said Saturday in response to an audience member's question.
"People in these units are in limbo right now and they need to be told what their future is," Kendall added. "This needs to be settled."
Lawmakers have now been debating whether to establish a Space Guard for three years.
The House included a provision for launching a Space Guard in its version of the fiscal 2024 National Defense Authorization Act, but there wasn't similar language in the Senate version.
Lawmakers must reconcile the matter before Congress sends President Joe Biden a final version of the NDAA.
Kendall also stated that the U.S. military doesn't need a Space Guard as large as the Army or Air Guard.
"There's some resistance to creating a large new Space Guard with the same bureaucracy as the Air Guard or the Army Guard," he said. "It is not necessary to do that.
"The position of the Department of the Air Force and the Department of Defense is that those units are of great value," Kendall continued.
Kendall warned America can't afford ongoing "inertia" over the Space Guard's fate because of the threat China poses.
"I believe the Air Force and the Space Force are the keys to our future operational success," he said.
"All of us are going to be dealing with this problem for the rest of our careers," Kendall cautioned. "China is not going away."
NGAUS considers establishing a Space Guard as the Space Force's primary combat reserve a legislative priority.
The Guard's space professionals rank among the U.S. military's most experienced talent.
But with the Air Guard no longer directly involved in space operations, the component's personnel are "orphaned," lacking a service that fully leverages their skills.
Congress hasn't passed legislation establishing a Space Guard, and cost serves as the idea's biggest roadblock.
The White House Office of Management and Budget opposes launching a Space Guard due to a Congressional Budget Office estimate.
CBO assumed a Space Guard would include units from all 54 states, territories and the District of Columbia, making the component cost an extra $500 million annually.
But the National Guard Bureau counters a Space Guard would cost $250,000 in one-time costs for changing signs, flags and uniform patches.
On Saturday, Kendall also discussed the Air Force's fighter force structure between now and 2030, with potential implications for the Guard.
"We're working on prototypes and heading towards fielding and production of the next-generation platform, the successor to the F-35, the replacement for the F-22," he said of the F-35 Lightning II and the F-22 Raptor after an attendee's question.
"But that is an expensive platform," Kendall added of the Air Force's sixth-generation fighter. "We're not going to be able to afford a great deal of those."
Kendall revealed the Air Force is buying "fighters as fast as we can right now," particularly the F-35 and the F-15EX Eagle II.
Yet Kendall admitted the Air Force's procurement plans might impact F-22 airmen.
"We are taking out the F-22 Block 20s because they're not really fully ready to go into the kind of combat that we're talking about," he said after another audience question.
"There will be units that will probably lose assets for a year or two and then have to be reconstituted," Kendall continued. "And then they'll get the new aircraft."
Kendall then noted the Air Force must strike a delicate balance with its service members and the equipment they use.
"We try in the Air Force very hard to protect the units that we have, because the people are really the value structure that we have — the people are much more important than the equipment is," he said.
"So, when we look at what to do as we modernize and we change the mix in the force, we are trying to retain the same kind of capabilities that we have already where we can," Kendall continued.
"For those of you that fly, we're going to try to replace a flying mission with a flying mission. And then, if we can't do that, we're going to replace with a high-value mission that will be enduring."
Kendall also praised Guardsmen for their contributions to the U.S. military amid rising near-peer competition.
"All of you — and I think I can say for the Army Guard as well as for the Air Guard — are enormously valuable to us," he stated. "We want you there doing your jobs and being part of our overall one team.
"But there are going to be some changes we're going to have to make if we're going to be successful as competition," he finished.
Modernizing and recapitalizing the Guard's 25 fighter squadrons across 22 states is another NGAUS legislative priority.
Kendall additionally noted he has been impressed by the Guard's role in the Air Force.
"You're a much more ready force than I'd assumed," he told Guardsmen. "I'm deeply grateful for what you do.
"Your value is not going to be diminished by anything I'm talking about," Kendall concluded. "It is going to go up."
Kendall's full speech is available here.
This article has been edited to include more accurate quotes and missing context from Kendall about the nation's airmen, their missions and their fighters.
— By Mark Hensch