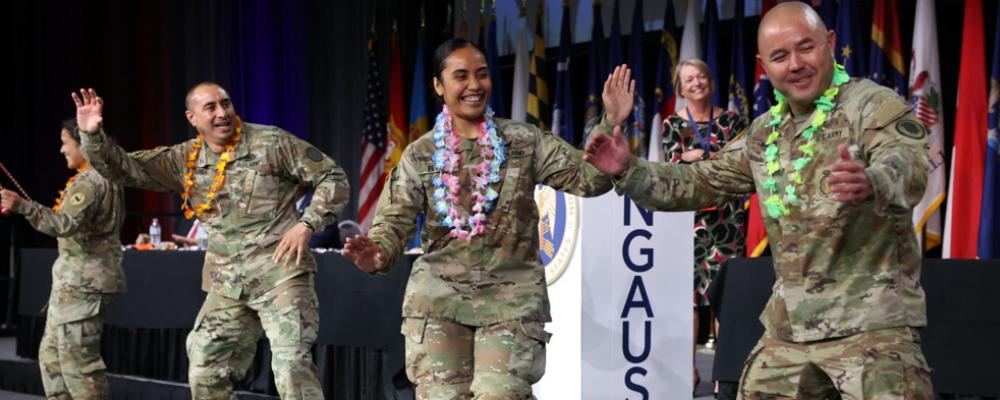 The Roll Call of States has been a longstanding popular tradition of the annual NGAUS conference.
The ceremony's format allows speakers from the 50 states, three territories and the District of Columbia to explain why their part of the National Guard is the best in 60 seconds or less.
Whether it's recognizing local celebrities, politicians or sports teams, the ceremony gives Guardsmen a chance to talk about the top things back home.
The speakers creatively boast about their roots.
Georgia rapped about the best things the Peach State offers, while California's speaker read a poem about their state's greatness.
Other presenters jabbed their home's rivals.
Wisconsin's representative dressed as a cow, speaking highly of the Green Bay Packers and disrespecting the football team's frequent competitor — the Chicago Bears.
Ohio, the conference's host state, touted the Columbus Zoo and the Ohio State University's college football rivalry with the University of Michigan.
"You'll quickly find out that Ohio doesn't suck, but Michigan does," Ohio's speaker joked.
Later, the Wolverine State fired back at its neighbor.
"Now that we're here, we'd like to welcome you to Michigan's little brother," one of the state's speakers quipped.
As speakers praised their homes, Guardsmen tossed audience members souvenirs ranging from Pennsylvania's Hershey Kisses to Louisiana's Mardi Gras beads.
While the Roll Call of States offers a chance to trade friendly barbs, the ceremony gives the Guard an opportunity to "play" before "work" starts during the three-day conference's business sessions.
-    By Donald Lambert