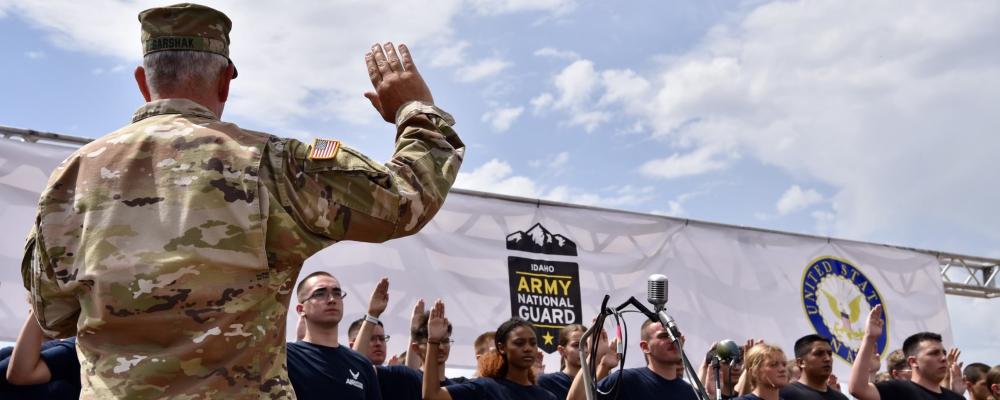 Fiscal 2023 proved to be another rough year for recruiting across much of the U.S. military, including the National Guard.
The Army Guard narrowly missed its goal, signing up 29,457 new soldiers nationwide out of its mission of 30,880 troops, nearly 5% short.
But retention was good. As a result, the Army Guard ended the year with an assigned personnel strength of 324,993, just seven soldiers short of its authorized strength of 325,000, according to the National Guard Bureau.
The Air Guard had an even tougher year, filling just 7,120 of its goal of 11,745 recruits. But the Air Guard's figure is better than it was in 2022.
Final numbers were down across the Army and the Air Force. The active-component Army fell about 10,000 personnel short of its goal of 65,000 recruits, while the Army Reserve enlisted just 9,319 of its target of 14,650 new soldiers.
The active-component Air Force missed its recruiting goals for the first time since 1999, getting only 24,100 of its 26,877 airmen goal, according to Military.com. The Air Force Reserve also missed its mark, signing up just 5,288 of the 7,765 new enlisted airmen it sought.
Things would likely have been worse for the Army if not for the service's Future Soldier Preparatory Course. A pre-basic training program, it provides applicants — active, Guard and Reserve — who come up short on academic or body fat requirements a chance to improve, meet the standards and ship out to boot camp.
In August, Army officials said 95% of the 8,800 attendees in the program's first year graduated and went to basic training.
Looking to the future, the Army recently announced a series of recruiting reforms.
The changes include a new recruiting career field that will replace the 79R recruiter military occupational specialty and eventually end involuntary recruiting assignments.
Besides a new MOS, the service is also introducing a new warrant officer field and exploring a new officer path for recruiting.
Army leaders will also expand their recruiting focus beyond recent high school graduates.
"While today's high school seniors comprise more than 50% of our annual contracts, they represent only 15-20% of the larger prospect pool from which we could recruit," Army Secretary Christine Wormuth said in an Oct. 3 press release.
"This means that in addition to the high school market, we need to attract and hire Americans in the college market or those already out in the job market," she added.
Army leaders have set a goal that at least a third of the Army's newest soldiers must have more than a high school degree by 2028, compared to 20% today.
The Air Force Recruiting Service is also trying new approaches.
Among the alterations are reinstating the Enlisted College Loan Repayment Program, permitting certain tattoos on the hands and neck and allowing some recruits who test positive for THC — the psychoactive component in marijuana — the chance to retest under a new pilot program.
— By John Goheen