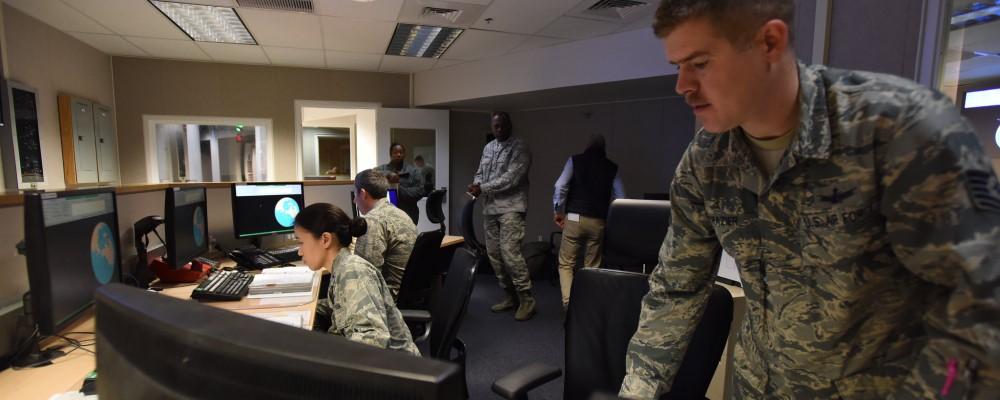 A new proposal to Congress for operating the Space Force does not discuss creating a Space National Guard, according to SpaceNews.
The plan calls for the Space Force to establish a regular active-duty force with full-time and part-time membership, SpaceNews reported Monday.
The Department of the Air Force submitted the proposal to Congress on April 1. 
If Congress authorizes the measure, the Space Force would have reservists but no Guardsmen.  
"[It would be] a new approach to managing reserve component forces by merging what has traditionally been called active-duty forces and reserve forces into a new component that provides full-time and part-time service options to Guardians," Lt. Col. Justin Brockhoff, Air Force Secretary Frank Kendall's spokesman, said in a statement. 
"[The Department of the Air Force] continues to coordinate across the executive branch on the appropriate future disposition of current Air National Guard space units in a manner that is efficient, effective and appropriate for space missions," he added.
About 1,500 space personnel currently reside in the Guard.
The fiscal 2022 National Defense Authorization Act required the Defense Department to analyze the military's space assets.
Gen. John "Jay" Raymond, the head of the Space Force, said the "one component" strategy materialized after considerable debate about the Space Force's format.
"One of the innovative things that we came up with was a solution to put the reserve and active duty together into one component, so you don't have a separate reserve," Raymond said.
According to Raymond, the Space Force has about 8,400 active-duty guardians.
Raymond added permitting guardians to work part-time could help the Space Force recruit and retain quality space personnel.
The military and the private sector crave space expertise, making competition over these people fierce.
The new proposal follows the Biden administration's September 2021 announcement opposing a Space Guard.
The White House cited bureaucratic and financial concerns about a Space Guard detailed in a June 2020 Congressional Budget Office report.
The projections were hundreds of millions of dollars more expensive than a National Guard Bureau estimate released in February 2020 stating Air Guard space units would not require new equipment or facilities.
Guard leaders say the CBO report was based on invalid data.  
"It doesn't take long to look at the footnotes and see it wasn't informed by any official report from the National Guard Bureau or the Department of the Air Force," Maj. Gen. Daryl Bohac, the president of the Adjutants General Association of the United States, told NATIONAL GUARD magazine recently. "This led to cost factors that were wildly inflated."
Bohac and other Guard leaders say anything less than a Space Guard will "orphan" Guard Space personnel from space professionals in the Space Force.