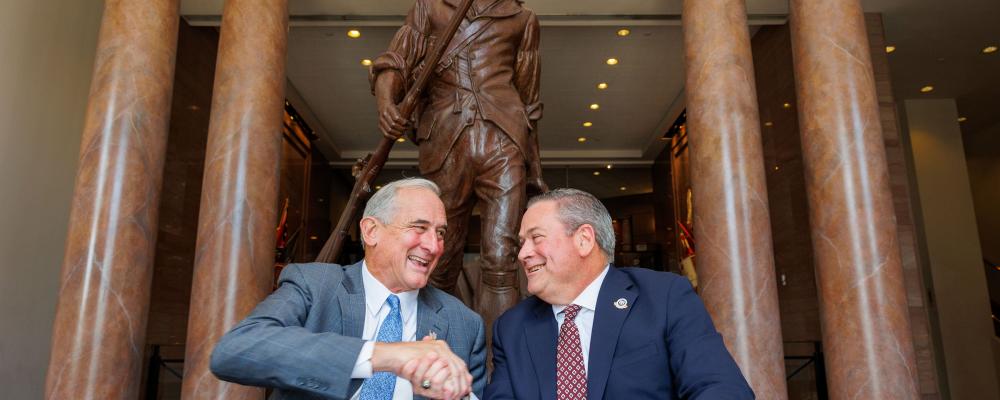 NGAUS members have more educational and professional development opportunities following a new partnership involving the association.
Now, NGAUS members will have access to scholarships, networking and more after aligning with the Association of the United States Army.
Retired Brig. Gen. J. Roy Robinson, NGAUS president, announced the association's collaboration with AUSA during a ceremony in Washington, D.C. last week.
"The new partnership between the Association of the U.S. Army and the National Guard Association of the United States establishes a formal bond of a close relationship that has long existed between us," said retired Gen. Robert B. Brown, AUSA chairman and CEO, on Aug. 17.
"We share the same goals and commitments," he added at NGAUS headquarters.
"The Regular Army and our nation need a strong, well-funded and well-equipped National Guard, our close friends and partners."
AUSA is a nonprofit educational and professional development association serving America's total Army.
While AUSA focuses on Army personnel, the group's relationship with NGAUS provides fresh advantages to all association members regardless of service.
Going forward, NGAUS members can access more than $340,000 in AUSA scholarships.
AUSA will also provide NGAUS members comprehensive, free SAT and ACT prep materials.
NGAUS members can additionally leverage AUSA's legal document preparation system for individuals and small businesses without cost.
Employment assistance through AUSA Jobs Central is another perk opening to NGAUS members.
AUSA Jobs Central is a website connecting Army employers and job seekers through career advice and openings.
Next, NGAUS members can leverage AUSA's savings and discounts with partner organizations.
AUSA and NGAUS members can find savings on everything from Apple products to Broadway tickets.
Finally, AUSA's digital educational products will be available to NGAUS members.
AUSA's online offerings range from informative livestreams and podcasts to ARMY Magazine and the group's twice-weekly e-newsletter, Soldier Today.
Nationwide, AUSA's local chapters can connect total Army and defense industry resources with Guardsmen in the communities where they live and work.
Take AUSA's largest event – the group's annual meeting and exposition in Washington, D.C.
Speakers at these events discuss Army topics including benefits, readiness and modernization.
NGAUS joining AUSA's association partner program comes amid one of the military's most challenging talent environments in decades.
A July 20 Army memo projected the service's active troop strength will be about 466,400 once this fiscal year ends, below a budgeted 485,000 soldiers.
 - By Mark Hensch