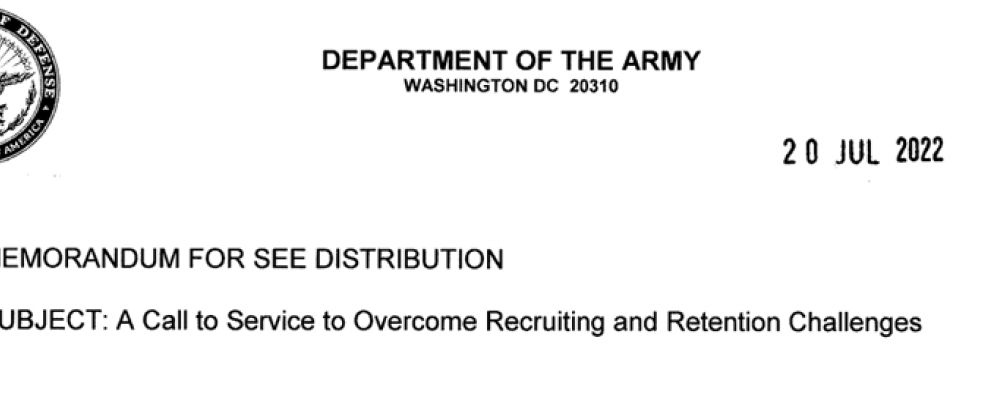 The Army will shift more than $1 billion to recruiting programs and rely more on reserve-component soldiers as the active-component struggles to attract recruits, service officials said in a July 20 memo.
"America's military faces the most challenging recruiting environment since the All-Volunteer Force was established in 1973," said Army Secretary Christine Wormuth and Gen. James McConville, the Army chief of staff.
The numbers reflect the depth of the problem.
Wormuth and McConville project active Army troop strength will be about 466,400 at the end of the fiscal year, significantly less than the budgeted 485,000.
And the total could drop as low as 445,000 soldiers by the end of fiscal 2023, they said, "barring a significant positive change in the current recruiting environment."
The memo attributes the problems to the red-hot civilian job market and a declining number of young Americans interested in uniformed service.
"This is not a recruiter problem. This is an Army problem," Wormuth and McConville said. "We are in a war for talent, and it will take all our people — soldiers across all components, families, Army civilians, and soldiers for life — to fight and win this war."
The memo lays out the challenges ahead.
"Academic, medical and legal troubles currently prevent 77% of 17-to-24-year-old Americans from serving," it said.
"But pandemic-driven constraints like virtual learning have further limited access to the recruiting population in high schools and exacerbated a decline in academic and physical fitness levels," Wormuth and McConville explained.
"Preliminary data suggests remote schooling may have lowered overall Armed Services Vocational Aptitude Battery scores by as much as 9%," they said.
Making matters worse, market research shows the Army doesn't have the attention of enough Americans, and service-aged youths have misconceptions about Army service.
"Potential recruits cannot see themselves in the Army, often due to assumptions about Army life and culture," the memo says. 
Wormuth and McConville added "younger Americans are losing trust and confidence in many American institutions, including the military."
Their memo listed a host of initiatives and programs to attract recruits and keep enlisted soldiers in the ranks. Officials noted they will have to make sweeping changes to the 2023 budget to address looming problems.
Wormuth and McConville said they will shift up to $1.2 billion from other Army programs to recruiting initiatives, retention bonuses and other efforts.
The pair also said "funding will be required to pay an increased number of mobilized Reserve Component Soldiers to meet operational demands."
The officials didn't elaborate on how many Guard and Reserve troops may be called or what demands they would be asked to fulfill.
Wormuth and McConville additionally stated what they wouldn't do.
"We will not sacrifice quality for quantity," they said. "We will not lower our standards.
"The United States Army exists for one purpose, to protect the nation by fighting and winning our nation's wars as a member of the Joint Force, and our readiness depends on a quality all-volunteer force."
 - By John Goheen