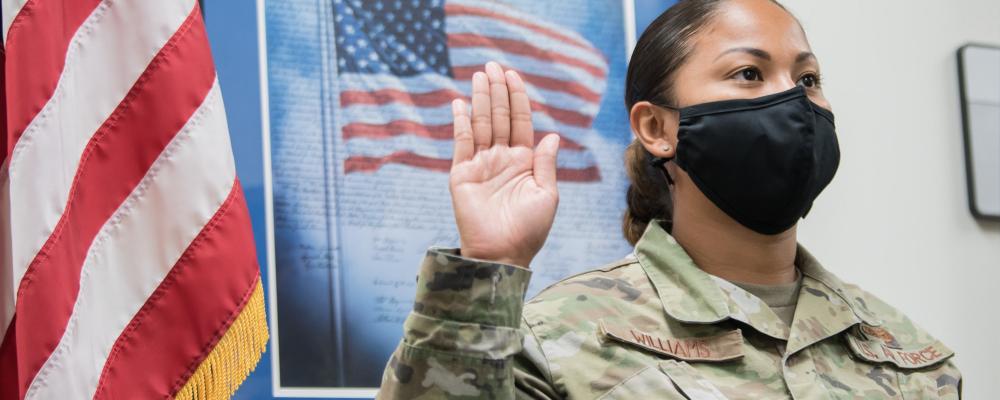 Every branch of the military is struggling to meet its fiscal 2022 recruiting goals, multiple reports say, with the Army having the most difficulty.
The Army has met about 40% of its enlisted recruiting mission for this fiscal year with three months remaining.
Fortunately, the final quarter — summer — is usually when the service recruits the most candidates following high school graduations.
Army National Guard recruiters are not faring much better.
As of June 15, the Army Guard had recruited 48.1% of its fiscal 2022 goal of 38,430 new soldiers, the National Guard Bureau says.
The Army Guard hasn't met its recruiting mission since fiscal 2019, reaching 80.6% in fiscal 2021. Excellent retention has made up the difference.
The active-component Army is bracing for the struggle ahead. 
Service officials involuntarily extended its top performing recruiters and waived the requirement for recruits to have high school diplomas through the end of the fiscal year Sept. 30.
Army officials are also offering a $35,000 bonus to new recruits willing to sign a four-year contract and ship out to basic training camp within 45 days amid the struggle to quickly fill open training slots, per reports.
The Army hedged its bets for fiscal 2023 by requesting an active-component personnel end strength of 12,000 less troops than this fiscal year.
Much of the recruiting problem seemingly stems from negative perceptions of the military among young people, the recruiting base for every component.
NBC News said it obtained an internal Defense Department survey showing 9% of young Americans eligible to serve have an inclination to do so — the lowest figure since 2007.
More than half of young Americans who answered the survey — about 57% — believe they would have emotional or psychological problems after military service, NBC reported, while nearly half think they would have physical problems.
Few had someone at home who could dispel such fears or explain the benefits of service. 
Only 13% of the surveyed had parents who had served in the military, down from approximately 40% in 1995.
"This is the start of a long drought for military recruiting," retired Lt. Gen. Thomas Spoehr of the Heritage Foundation, a Washington think tank, told NBC News.
Spoehr said the military hasn't had such recruiting difficulties since 1973, the year the U.S. left Vietnam and the draft officially ended.
He added he doesn't believe a return to the draft is imminent, but "2022 is the year we question the sustainability of the all-volunteer force."
 - By John Goheen