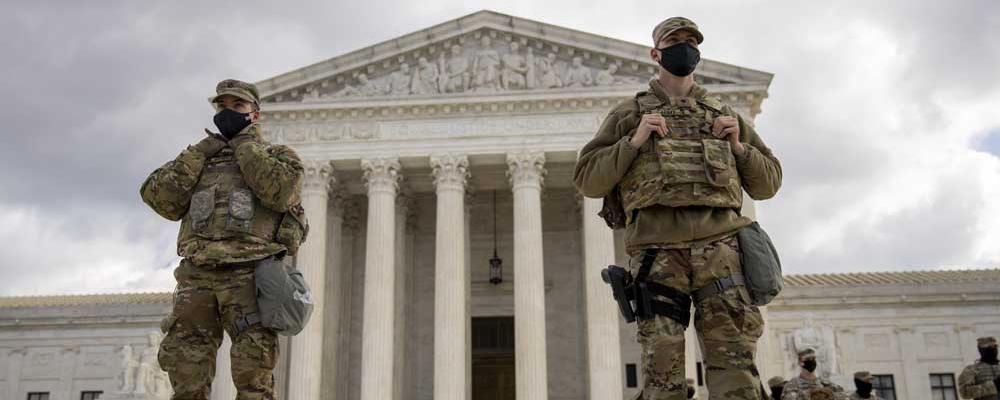 Several members of Congress are demanding the Supreme Court protect the full civilian pay for full-time federal workers anytime when they are on National Guard and Reserve duty. 
The group recently petitioned America's highest court to consider Adams v. Department of Homeland Security, a case concerning differential pay support in the U.S. armed forces.
"The bipartisan Reservists Pay Security Act was written to ensure that federal employees in the National Guard and Reserves do not suffer a loss of income when they are called to active military duty," the lawmakers said in an amicus brief filed March 18 addressing the Supreme Court.
"The law requires the government to pay Guard members and reservists 'differential pay' while on active duty, i.e., the difference between their military pay and what they would have been paid in their federal civilian employment during their time on active duty," the document added.
Last week, Sen. Sherrod Brown, D-Ohio, announced he was one of three senators filing the brief.
Sen. Richard Blumenthal, D-Conn., and Sen. Dick Durbin, D-Ill., also asked the Supreme Court to examine Adams v. Department of Homeland Security.
Rep. Anthony Brown, D-Md., Rep. Carolyn Maloney, D-N.Y., Rep. Eleanor Holmes-Norton, D-D.C., and ex-Rep. Robert Wexler, D-Fla., were the brief's House participants.
On Feb. 14, a federal employee named Bryan Adams urged the Supreme Court to review a lower court's ruling against him.
Last year, a federal circuit court ruled Adams was not entitled to differential pay unless his service related to a national emergency.
The court cited the authority calling Adams, a human resources specialist for U.S. Customs and Border Protection, to five months of active duty in 2018.
Adams was also a tech sergeant in the Arizona Air Guard while working for CBP, a DHS agency.
A Supreme Court decision about differential pay would touch approximately 200,000 federal employees who are in the Guard and Reserve. 
Differential pay covers the difference between federal employees' civilian and military incomes while those people are active duty.
Military reservists often make less money than full-time employees in the federal government and private sector.
The Omnibus Appropriations Act of 2009 prohibited the federal government's military reservists from losing income on active duty.
"Both contemporaneous statements by the law's authors and other legislative materials confirm that Congress did not intend to limit the application of the law by the kind of service the reservists rendered or the provision of law under which the reservists were call to active duty," the recent amicus brief said.
"If allowed to stand, the Federal Circuit's decision would severely burden a significant number of Americans solely because they wear the Nation's uniform," the seven congressional members added.
Durbin introduced legislation that eventually was included in the Omnibus Appropriations Act of 2009's provision preserving full civilian pay for government employees mobilized for Guard or Reserve duty. 
A 2000 Defense Department survey of roughly 35,000 Guardsmen and Reservists found 41% reported losing income amid deployments and mobilizations.