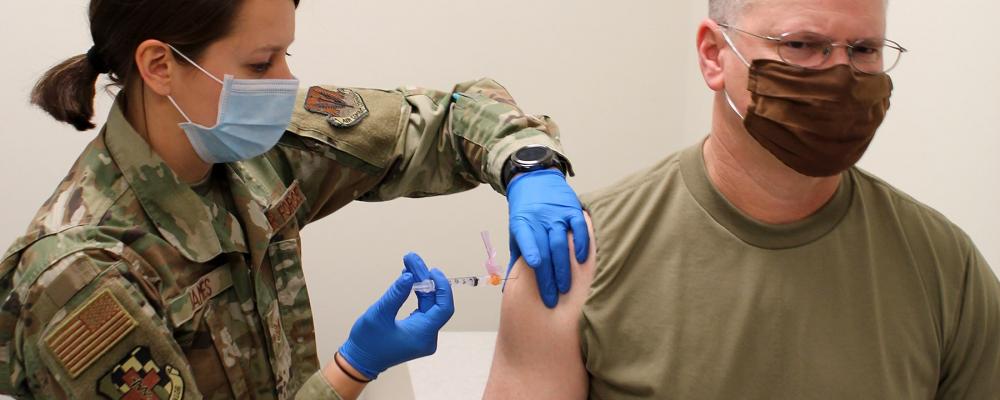 Fifty-one House Republicans have asked Defense Secretary Lloyd J. Austin III to reconsider the COVID-19 vaccine mandate, citing the "crippling nature" the mandate will have on National Guard readiness.
In a July 26 letter, the group also urged Austin to issue guidance that considers natural immunity.
Several key members of the House Armed Services Committee signed the message, including Rep. Trent Kelly, R-Miss., the ranking Republican on the HASC subcommittee on intelligence and special operations; and Rep. Mike Waltz, R-Fla., the ranking Republican on the readiness subcommittee.
Kelly is a major general in the Mississippi Army Guard and Waltz is a colonel in the Maryland Army Guard.
NATIONAL GUARD magazine interviewed Waltz on various topics in its May issue.
"Approximately 11% of the National Guard and Reserves remains unvaccinated," the 51 lawmakers wrote. "The reluctance and refusal from some of these service members to not be vaccinated comes from their personal spiritual beliefs and concerns about a vaccine that was initially developed and approved under expedited emergency-use authorization."
"At a time when the Department is struggling to recruit qualified young men and women fit for duty to fill the ranks, and while China is embarking on a massive military buildup which threatens American interests around the world, we should not be hindering our own readiness and capabilities by punishing and forcing out experienced and dedicated Guardsmen and Reservists," the group continued.
"Further, as a result of the June 30 deadline, unvaccinated Guardsmen and reservists are not authorized to participate in federal training and war games," they added. "Not only does this affect the service pay and retirement benefits of the individual service members, it also negatively impacts the combat readiness of the units."
Army data released July 28 indicates 88% of the Army Guard is completely vaccinated, with another 1.7% having one dose. There are 10,798 refusals, while 8,506 Army Guard soldiers have approved exemptions or pending exemption requests.
The vaccination policy doesn't apply to soldiers with pending or approved exemptions from the COVID-19 shot, the Army Public Affairs statement added.
No Army Guardsmen or Reservists have been separated yet for refusing the vaccine. The Army data indicates 1,413 active-component troops have separated.  
Dec. 2 was the deadline for Air Guard members to be vaccinated. The latest Air Force data indicates 94.1% of Air Guard personnel are fully vaccinated. More than 905 Air Guardsmen have approved vaccine exemptions.
The Air Force has administratively separated 834 airmen. The data doesn't break down the figure by component. 
Waltz's office released the letter to the public. The version posted to Waltz's website doesn't include all the signatories.
 - By John Goheen