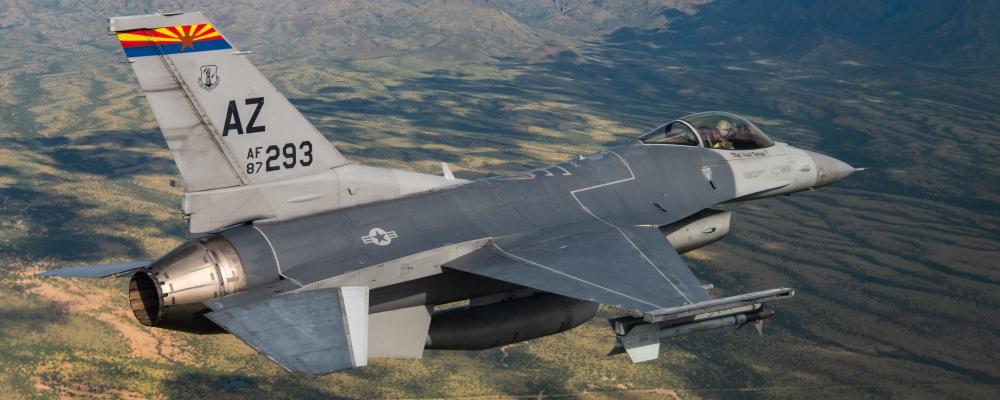 The 162nd Wing will begin training "several" Ukrainian pilots and "dozens" of maintainers on the F-16 Fighting Falcon at Morris Air National Guard Base in Tucson, Arizona, Brig. Gen. Pat Ryder, the Pentagon press secretary, said last week.
The Arizona Air Guard unit has long been the Air Force's international F-16 schoolhouse.
Over the last three decades, the 162nd Wing's personnel have trained pilots from more than two dozen countries on the Lockheed Martin fighter, including Denmark, Japan, Jordan, Italy, the Netherlands and Singapore.
The U.S. is providing training — but not aircraft — to Ukraine.
According to the Defense Department, Denmark and the Netherlands have announced their intention to make F-16 aircraft from their fleets available to Ukraine.
Per an Aug. 24 Pentagon press release, the Ukrainians coming to Tucson for flight training in October will first attend language courses at Lackland Air Force Base in San Antonio, Texas.
This training will ensure that all pilots have the sufficient language skills for fully comprehending the "complexities and specialized English required to fly the aircraft," Ryder said.
"The training provided by the United States will complement the F-16 pilot and maintenance training that's already underway in Europe and further deepens our support of the F-16 training coalition led by Denmark and the Netherlands," he continued.
"Moving forward we will remain in close consultation with the Danes, the Dutch and other allies to ensure U.S. training complements the broader coalition training efforts," Ryder noted.
Ryder added that by announcing the training, the U.S. is preempting any training capacity constraints in Denmark and the Netherlands' training pipeline, ensuring the aircraft are fielded to Ukraine as quickly as possible.
Per Ryder, Ukraine will ultimately determine the number of pilots that will require the training.
According to Ryder, the complete training pipeline will likely take several months, depending upon the pilots' proficiency before taking the course.
"Part of this training will be assessing the individual pilots' skill level, which will help to determine how long that training will last," he said. "Your basic, new F-16 pilot with not a lot of training on the U.S. side, that training typically lasts about eight months."
This program includes a series of courses ranging from basic flight training to instruction on fighter fundamentals, weapons employment, combat maneuvering and tactical intercepts, among other concepts.
Ryder said training for more experienced pilots could be completed in about five months.
Beyond flight training, Ryder said that the F-16s require significant logistics and maintenance training for the ground support personnel that ensure the fighters remain combat capable.
Earlier this year, Ukrainian pilots visited Arizona so Air Force personnel could assess their skills on F-16 flight simulators.
— By John Goheen