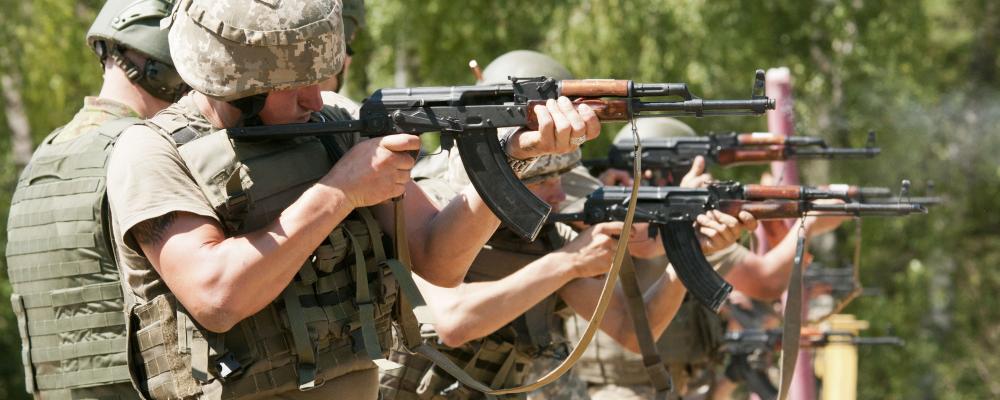 A small Florida Army National Guard task force that left Ukraine just before the Russian invasion has resumed training Ukrainian troops — this time at an undisclosed location in Germany. 
The 160 members of the 53rd Infantry Brigade Combat Team, known as Task Force Gator, recently reunited with their Ukrainian partners, Pentagon spokesman John Kirby said Friday.
"It was an emotional meeting, given the strong bonds that were formed as they were living and working together before temporarily parting ways in February," he told reporters.
The Florida Guard soldiers first arrived at Joint Multinational Training Group-Ukraine at the Yavoriv Combat Training Center in western Ukraine in December, with months still remaining on their original deployment orders.
Though training must now take place outside Ukraine, it continues a program begun after Russia's annexation of Crimea in 2014. 
The Army's 173rd Airborne Brigade, which is based in Europe, kicked off the JMTGU effort in 2015. 
Since then, Guard combat units from (in order) California, Oklahoma, New York, Tennessee, Wisconsin, Illinois and Washington before Florida have deployed task forces of up to 200 soldiers to help transform Ukraine from a Soviet-style military to a more agile and lethal force.
Allied troops from Canada, Denmark, Lithuania, Poland, Sweden and the U.K. also provided trainers.  
"We shouldn't forget that a big part of Ukraine's soldiers' ability to defend their country as well as they have has been the training that they have gotten over the past eight years," Kirby said.
Most of the training focused on instructing trainers, so the impact has extended beyond the 27,000 Ukrainian troops that have trained at JMTGU.
"They have better command and control," Kirby said. "They have better battlefield initiative. They have a competent noncommissioned officer corps that is empowered on the field of battle to make tactical decisions. That didn't happen by accident."
Part of the U.S. Army Europe's 7th Army Training Command, JMTGU also trained Ukrainian troops on many of the shoulder-fired weapons like the Javelin, the Stinger and others that have proven effective against Russian forces.
Task Force Gator's training mission continued until its evacuation only two weeks before Russia's invasion began Feb. 24.