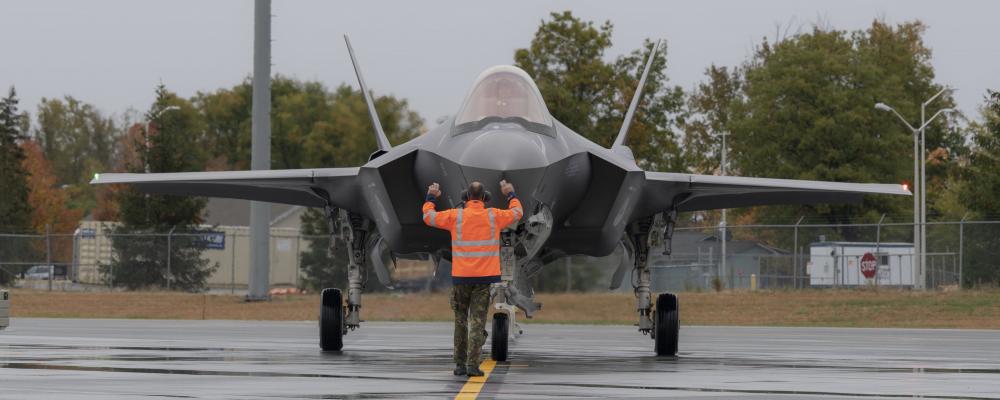 The National Guard has F-35 Lightning II fighters overseas for the first time following a recent deployment to Europe.
The Vermont Air Guard's 158th Fighter Wing reached Germany last week for an enhanced air-policing mission, according to a U.S. Air Forces in Europe – Air Forces Africa statement.
USAFE-AFAFRICA says eight 158th F-35s landed at Germany's Spangdahlem Air Base on May 2.
The wing will help NATO patrol the skies along the alliance's eastern flank during a time of rising tension in Europe.
In February, Russia invaded Ukraine, triggering the worst European conflict since World War II. 
"I think showing our allies that they have our support and operating with them in solidarity and training with them in that operational environment sends a pretty powerful message," says Maj. Gen. Gregory C. Knight, Vermont's adjutant general.
The Associated Press reported last week more than 200 Vermont airmen are in Europe for the mission.
Wing personnel will assist NATO patrols watching for Russian intrusions.
NATO continually has fighter aircraft and crews ready for possible airspace violations involving Russia.
Per the alliance, the initiative is one of several measures following Russia annexing the Crimea peninsula from Ukraine in 2014.
NATO says Russian aircraft often don't transmit radio codes listing their position and altitude.
Russian aircraft also frequently neglect to file flight plans and communicate with air traffic controllers, it adds.
On April 29, officials reported jets scrambled in the preceding days for monitoring and intercepting Russia aircraft in the Baltic and Black Sea regions.
"The interceptions were conducted in a safe and routine manner," NATO says, adding Russian aircraft never entered its airspace.
NATO – or the North Atlantic Treaty Organization – is a military alliance including the U.S., Canada and now 30 European countries formed after World War II.
Created to counter the former Soviet Union, Russia's invasion of Ukraine has demonstrated NATO's enduring relevance, U.S. officials say.
The 158th is America's only Guard unit flying F-35s, a fifth-generation aircraft widely hailed as revolutionary.
"The technological advances to the aircraft are light years ahead of gen-four platforms like the F-16," Knight says.
"Here we are, just three months after coming out of conversion, and they're already mobilized and deployed in support of EUCOM and NATO and the air-policing mission," he adds, referencing United States European Command. "That to me is what's really remarkable about this fighter wing."
The wing completed its F-35 conversion in December after starting in September 2019.
Per USAFE-AFAFRICA, the 158th replaced the 388th Fighter Wing from Hill Air Force Base, Utah.
The 388th joined NATO's air-policing mission on Feb. 16, days before Russia entered Ukraine.
Vermont Guard officials have not said where the 158th is operating in Europe.
But the Air Force said the 388th flew missions from Estonia, Lithuania and Romania.