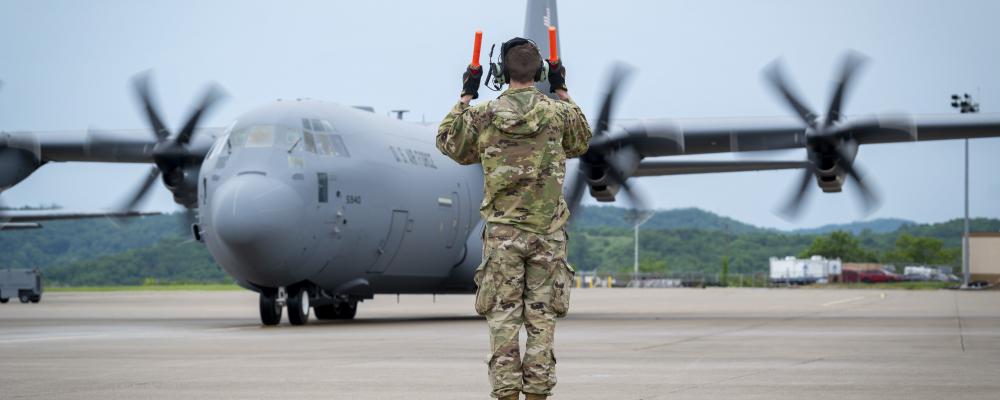 Sixteen C-130J-30 Super Hercules cargo planes for the Air National Guard are in Sen. Patrick Leahy's mark of the fiscal 2023 defense appropriations act.
The Vermont Democrat is chairman of the Senate Appropriations Committee. He is also the longtime Democratic co-chair of the Senate National Guard Caucus.
The 16 new C-130s would be enough to recapitalize two Air Guard airlift wings.
No C-130s for the Air Guard were in the president's budget request. Congress also added 16 of the tactical cargo planes for the Guard in fiscal 2022 appropriations.
The mark also includes $1.5 billion for the congressionally-directed National Guard and Reserve Equipment Account.
The mark additionally requests more details about how the Air National Guard's space operations would fit the Space Force.
"The committee notes that there are Air National Guard Units conducting space missions and that there is disagreement within the Department of the Air Force on how best to allocate those forces following establishment of the Space Force," a statement released July 28 said.
"The committee believes that any decision on transferring or reducing those missions should be made only after a full analysis of the costs, benefits, and unit impacts," it added.
These proposals are part of a $792 billion defense spending package, nearly 9% above current year spending levels and about 4% above the White House and House proposals for military funding.
But it falls nearly $10 billion short of the spending level agreed to in the Senate Armed Services Committee' s version of the fiscal 2023 National Defense Authorization Act.
The disparity angered Leahy's Republican colleagues.
Sen. Richard Shelby, R-Ala., the SAC's ranking Republican, said the bills show that negotiations "have a long way to go."
"These drafts fail to appropriately allocate resources to our national defense, remove important legacy riders that enjoyed broad, bipartisan support just four months ago, and are filled with poison pills," Shelby said in a statement.
The path forward includes full Senate passage of not just defense appropriations but 11 other spending bills.
Differences between the Senate and House versions of each spending bill will have to be reconciled.
The process takes significant time and lawmakers have only a few days scheduled for work between now and the end of the fiscal year Sept. 30.
The window of time means Congress must pass a stop-gap budget - a continuing resolution - to begin fiscal 2023, which will fund the government at fiscal 2022 rates with no new programs.
Most observers expect the CR to be lengthy.
Lawmakers did not complete their work on fiscal 2022 appropriations until March, more than five months into the fiscal year.
 - By Mark Hensch