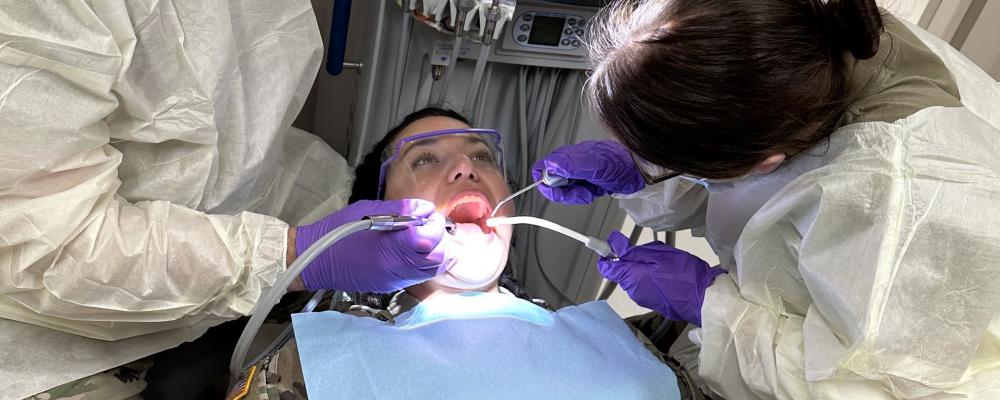 Bipartisan legislation introduced in both the House and Senate on Tuesday would ensure every service member has no-cost dental care.
The Dental Care for Our Troops Act would waive premiums and co-pays in the TRICARE Dental Program for all National Guardsmen and Reservists. Active-duty service members have long had access to free dental care.
For the Guard and Reserve, dental care is much more of a readiness issue than a lack of benefits parity with active-duty personnel.
More than 75,000 Guardsmen and Reservists are nondeployable for dental reasons, according to data provided by Rep. Andy Kim, D-N.J., one of the House bill's sponsors.
"When I speak with members of the National Guard, Reserve and military support organizations, they tell me that access to affordable dental care is a concern for them, and that dental issues are a top reason reservists are found unfit to deploy," Kim said in a June 20 press release.
"With this bill, we're making sure that all National Guard and Reservists have access to premium-free TRICARE Dental coverage," he continued. "Service members sacrifice so much for us, and I'm proud to support providing these benefits they earn every single day."
"Our men and women in the Reserve and National Guard components deserve the same health care and dental services that are provided to active-duty personnel and their families," argued Rep. Trent Kelly, R-Miss.
"It is an honor to be a lead co-sponsor with Representative Kim for this bipartisan legislation that is critical to military readiness," he noted.
Kelly is a major general in the Mississippi Army Guard. He and Kim are also co-chairs of the House National Guard and Reserve Caucus.
Sen. Tammy Baldwin, D-Wis., Sen. Richard Blumenthal, D-Conn., and Sen. Shelley Moore Capito, R-W.Va., introduced the bill in the Senate.
"Dental care in our National Guard and Reserve is a growing issue, keeping tens of thousands of troops from being able to deploy and serve our country," Capito said. "I have heard firsthand how a lack of access to dental care affects military readiness, and this legislation helps provide the access to care our troops deserve and need."
"I am continually impressed by the men and women who serve in the West Virginia National Guard and the broad array of missions they support around the world," she added. "Our military relies heavily on the ability of National Guard and Reserve members, and I will continue to put forward solutions that support them."
NGAUS strongly supports the legislation.
"Dental coverage will greatly improve readiness and allow us to better serve our country and our communities," said retired Brig. Gen. J. Roy Robinson, the association's president. "We want to thank Representatives Kelly and Kim and Senators Baldwin, Blumenthal and Capito for their leadership and supporting our troops."
The Dental Care for Our Troops Act is also supported by VoteVets, the Reserve Organization of America, the Naval Enlisted Reserve Association and the Air Force Sergeants Association.
— By John Goheen