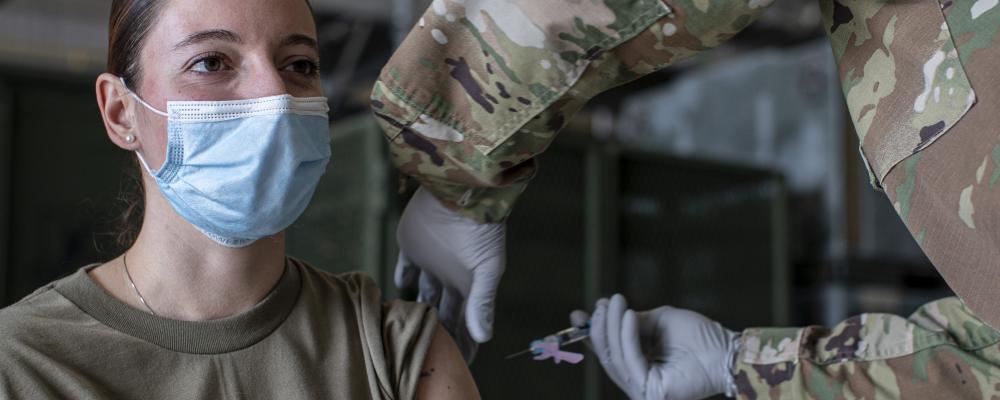 Up to 40,000 Army National Guard troops nationwide haven't gotten COVID-19 vaccinations, the National Guard Bureau says.
On Monday, the NGB said about 13% of the force remains unvaccinated despite a Thursday deadline.
At least 14,000 Army Guardsmen have refused the shot, risking expulsion from the service starting June 30.
"We're going to give every soldier every opportunity to get vaccinated and continue their military career," Lt. Gen. Jon Jensen, the director of the Army Guard, told The Associated Press on Saturday. "We're not giving up on anybody until the separation paperwork is signed and completed."
As of June 21, NGB data shows 87.7% of the National Guard is fully vaccinated against COVID-19, while 89.7% have received at least one vaccine dose.
In the Army Guard, 85.9% are fully vaccinated and 88.2% are partially vaccinated.
For the Air Guard, 94% are fully vaccinated and 94.1% are partially vaccinated. The Air Guard's vaccine deadline was Dec. 2, 2021.
Between 20% and 30% of Guard personnel in six states are unvaccinated, the AP reports.
In 43 other states, roughly 10% need vaccinations, which Defense Secretary Lloyd Austin ordered last year.
NGB noted Monday some Guard airmen and soldiers are still getting civilian documents into their Electronic Health Records.
The process might make the number of vaccinated personnel higher than the military's current total.
Austin mandated vaccinations for all active-duty, Reserve and Guard troops, citing militarywide health and readiness.
Guard leaders say they'll work with the nearly 7,000 people seeking vaccine exemptions, most for religious reasons.
On Friday, the Army said 90% of its reserve forces are fully or partly vaccinated.
The Pentagon has vowed that after June 30, unvaccinated Guardsmen won't receive federal pay during federal training, including monthly drill weekends. 
Complicating matters for Guardsmen on state active duty is each state's unique COVID-19 requirements.
Some states let Guardsmen join state missions and earn state pay while on state duty status without the vaccine.
On Friday, Gov. Kay Ivey, R-Ala., asked President Joe Biden to halt the Army's COVID-19 vaccination deadline this week.
"Unfortunately, this will immediately impact our Guard's force readiness as some of these individuals have unique expertise in specific, mission-critical specialization," she wrote in a letter to Biden.
Jensen and Maj. Gen. Jill Faris, director of the Guard's office of the Joint Surgeon General, said about 20,000 troops have not filed exemption requests despite lacking vaccinations.
Some troops are undecided, the pair said, while others haven't reported their status.
Some soldiers have not filed their vaccination paperwork, while others don't need shots until starting basic training.
The AP said the number of people in each category was unclear.
 - By Mark Hensch