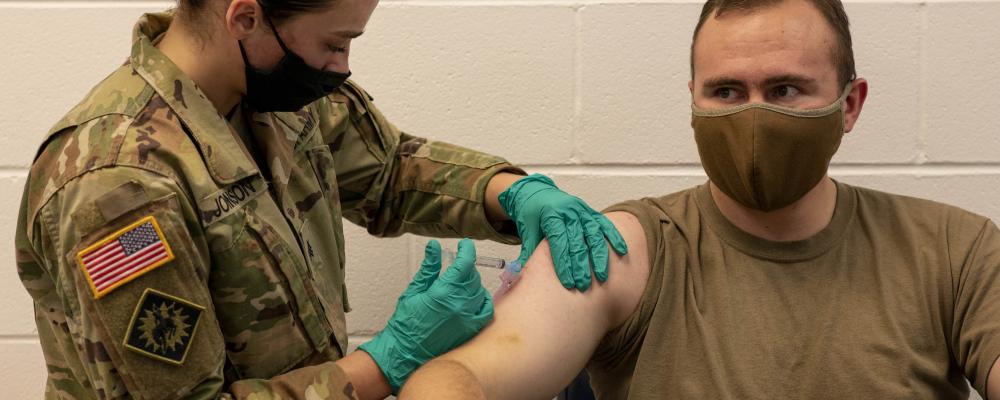 Members of the Army National Guard and Army Reserve refusing the COVID-19 vaccination may no longer participate in federally funded drills and training and will not receive pay or retirement credit, a July 1 Army statement said.
The policy doesn't apply to soldiers with pending or approved exemptions from the COVID-19 shot, the Army Public Affairs statement added.
"Maintaining readiness continues to be among the U.S. Army's highest priorities," the service said.
"Soldiers who refuse the vaccination order without an approved or pending exemption request are subject to adverse administrative actions, including flags, bars to service, and official reprimands," it added.
"In the future, Soldiers who continue to refuse the vaccination order without an exemption may be subject to additional adverse administrative action, including separation."
Holdouts could lose their proficiencies, jeopardizing their mission readiness and risking discharge, the Army stated.
The Army's action follows a June 30 deadline for Army Guard and Army Reserve members to be vaccinated.
On Friday, Guard officials told CBS News more than 40,000 Guard personnel aren't vaccinated against COVID-19.
Of this total, about 14,000 Guardsmen said they have no intention of receiving the jab.
On Tuesday, National Guard Bureau spokesperson Kurt M. Rauschenberg said 88.6% of the National Guard is vaccinated against COVID-19, while 90.3% has received one vaccination dose.
Rauschenberg said 86.9% of the Army Guard is fully vaccinated, while 89.01% has received a partial COVID-19 vaccination.
The Air Guard, Rauschenberg continued, is 94.1% fully vaccinated and 94.25% partially vaccinated.
A total of 11,757 Army Guard and 7,031 Army Reserve troops have refused the vaccine, according to Army figures released Friday.
The Army data shows 8,088 Guard soldiers have requested temporary or permanent exemptions from the shot, as have about 6,557 Reserve forces.
Currently, the Army has approved six permanent medical exemptions for Guard soldiers and no permanent religious exemptions.
The Army said soldiers will be paid and/or receive retirement credit for their service days if activated for limited administrative purposes like getting vaccinated.
CBS News reported some personnel may still receive state paychecks performing missions for state governors.
The Army vows all exemptions will be reviewed individually and consider numerous factors.
Potential considerations include input from medical personnel and chaplains, public health and legal reviews and recommendations from soldiers' commanders.
Defense Secretary Lloyd Austin mandated the shot for all servicemembers last August.
Austin let each service branch set its own vaccination deadlines, with the Army Guard and Reserve scheduling the military's latest cutoff.
The Army's deadline for active-duty vaccinations was Dec. 15, while the Air Guard's due date was Dec. 2.
No matter the service, the military's COVID-19 vaccine mandate has provoked controversy.
Supporters argue the COVID-19 vaccine is crucial for ensuring military readiness and protecting national security.
Critics contend the shot may have unexpected health risks or could violate people's religious beliefs.
Last week, Sen. Marsha Blackburn, R-Tenn., said she plans on introducing legislation that would prohibit federal funds from implementing COVID-19 vaccine requirements for Guardsmen.
"Our servicemembers are the bedrock of America," she said. "Firing 40,000 Guardsmen for refusing the COVID vaccine would be both a complete disgrace and a threat to our national security. I am honored to stand beside our National Guardsmen and women by introducing this legislation to protect them from President Biden's forever pandemic."
Before the Army Guard and Reserve's COVID-19 deadline, Gov. Kay Ivey, R-Ala., and Gov. Glenn Youngkin, R-Va., called for halting the cutoff.
On Tuesday, Rauschenberg called the Guard's readiness "of paramount importance."
"National Guard members protect our nation from threats, and they must be ready to do so," he said in an email.
 - By Mark Hensch