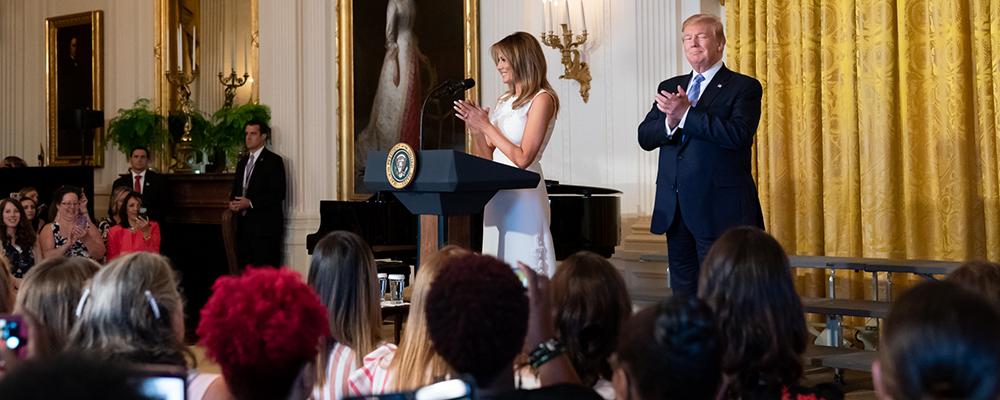 More than 200 military mothers were honored by President Donald Trump and the first lady in the White House's East Room last week.
Service members, spouses and mothers attended the event, which also featured entertainment by the U.S. Army Chorus.
Melania Trump spoke on the blessing of motherhood during the event, which was meant to coincide with Mother's Day.
And in brief remarks, the president praised the unwavering dedication and support that mothers provide the nation's military families. He said those in attendance had two of the most important jobs in the world in helping to defend the country and raising the next generation of patriots.
"This afternoon, I want to express our incredible appreciation to all of you: the moms serving our nation in uniform, the mothers of our great heroes, and the moms with spouses who serve in the armed forces," Trump said.
"Today, we honor you," the president added. "We celebrate you. We salute you and everything that you do — so many things, so many great things — for our country."
Trump also took the opportunity to praise efforts to strengthen the military, noting a rising budget and higher rates of readiness.
"It's just something special," he said of the nation's armed forces. "Hopefully, we don't have to use it. They're going to look at it, and they're going to say, 'We don't want to mess with them.' Right? We don't want to mess with them."
The military mother celebration was the third event of its kind held since Trump took office.
Similar events have been held in the past by President Barack Obama and other previous presidents.
"Our nation is eternally grateful to our military mothers," Trump said. "Your love and devotion and sacrifice keeps America safe, strong, proud and free."