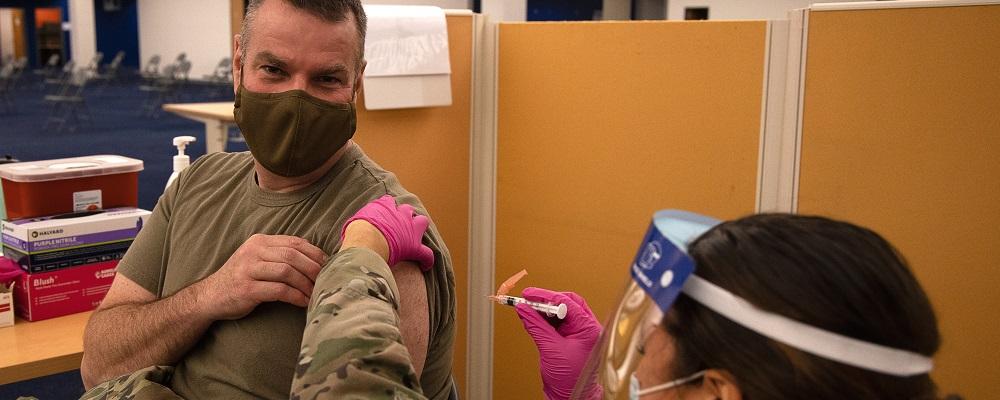 More than 20,000 National Guard soldiers and airmen remain on COVID-19 duties in 52 states and territories, according to Guard officials.
The number is down slightly from last week. And far short of the more than 47,000 Guard soldiers and airmen who were on pandemic-related duties in all 50 states, three territories and the District of Columbia at the response's peak.
Guardsmen are being used at the direction of state leaders. Some are helping to distribute vaccines. Others continue to assist testing or support operations in nursing homes. In some states, Guardsmen are administering the vaccine.
As of Dec. 31, the states and territories had received more than 21,500 doses of COVID-19 vaccine.
The operations are not without risks.
A Colorado Guardsman is the first person in the country known to be infected with a new and more contagious variant of the coronavirus, officials said. The Guardsman has been serving at a nursing home struggling with an outbreak.
As of Jan. 4, there were more than 5,300 active COVID-19 cases among the Guard, with four Guardsmen hospitalized. More than 8,200 have recovered and at least five Guardsmen have died from the virus.
More than 5,500 Guardsmen in 23 states have been vaccinated. Most of those include soldiers and airmen whose jobs and upcoming mobilizations place them at risk of high COVID-19 exposure.
In Vermont, soldiers and airmen were able to volunteer to receive the vaccines.
"Even my flu shot hurts worse than this," said Staff Sgt. Yolande Allen, in a Vermont Guard release.
Soldiers and airmen receiving the vaccine are being asked to continue to wear masks, wash their hands and practice social distancing.
"Even though you may not get COVID-19, it's possible that you still might be able to spread it," said Maj. Gen. Greg Knight, the adjutant general of Vermont.