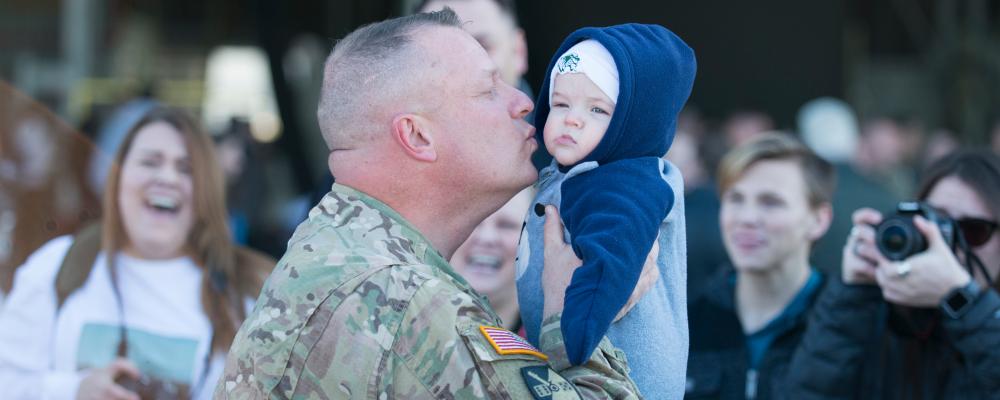 Time away from family continues to be No. 1 concern among service members, according to a recent survey of 10,000 active-duty members, veterans and their immediate families. 
Blue Star Families conducted its ninth annual survey in April to June 2018. This is the organization's largest survey to date.  
Among those surveyed, more than half of the active-duty spouses and service members, and more than a third of the veterans, identified time away from family as the top lifestyle issue. The issue also topped the survey last year.
Approximately 70 percent of millennial military-family respondents reported having two incomes as vital to their family's well-being, compared to 63 percent of older families, regardless of rank. Difficulty in making ends meet is increasing across respondents, which contributes to more time away from families.
 
For the first time in the survey's history, relocation stress became the top stressor for service members. According to those surveyed, 31 percent of military family respondents spent $1,000 in unreimbursed expenses during their last military move. The data also revealed women with children have it especially difficult, with 79 percent of female service members unable to find reliable child care.
Around half of those surveyed said they felt apart from their local civilian communities, and 43 percent felt the same about their military communities. Respondents recommended increasing the availability of military spouse jobs to improve a sense of belonging to their local communities. 
Other top issues include the military's impact on children and their education, access to reliable health care, especially among LGBT service members, and military pay and benefits. 
The data could help the Defense Department shape future policy and direct funds into services the military deems most important for retaining and attracting service members. 
The full survey is available on their website.