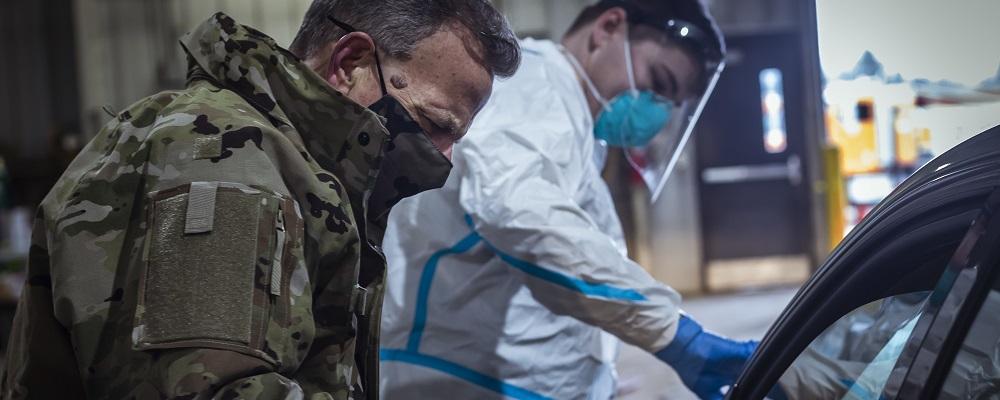 A new wave of COVID-19 cases has states once again expanding their National Guard support for testing, disinfecting and other support.
Several states have called up additional Guardsmen in recent days to help with the pandemic.
In Arkansas, 30 Guardsmen have been activated to help with case management. That bolsters ongoing efforts in support of a call center and personal protective equipment distribution.
Kentucky, meanwhile, has deployed Guardsmen to assist nursing homes amid an outbreak in senior care facilities.
And Idaho has sent 100 Guardsmen to help with mobile testing support, medical facility decontamination and COVID-19 screenings.
Overall, nearly 20,000 Guardsmen are now on COVID-19 related missions. That's a growing number, but still a far cry from earlier this year, when more than 46,000 were involved in coronavirus efforts.
The rising COVID-19 numbers has several states once again angling for more federal support.
Leaders in several states have called for President Trump to reauthorize Title 32 support for Guardsmen.
Earlier this year, the White House announced the federal government would no longer cover 100% of the costs for the mobilizations related to the pandemic. Most states are now required to cover 25% of the costs, with exceptions for Texas and Florida through the end of the year.
Members of Congress have also called for the White House to resume full federal support of the mission.
Sen. Bob Casey, D-Pa., said the Guard has been instrumental in the nation's response. He urged Trump to rethink his earlier decision.
"As the nation expects spikes in COVID-19 cases in the coming months, this renewal is much needed to ensure the National Guard is able to support efforts to keep our citizens safe and to maintain National Guard operations without additional burden to states and territories," he said.