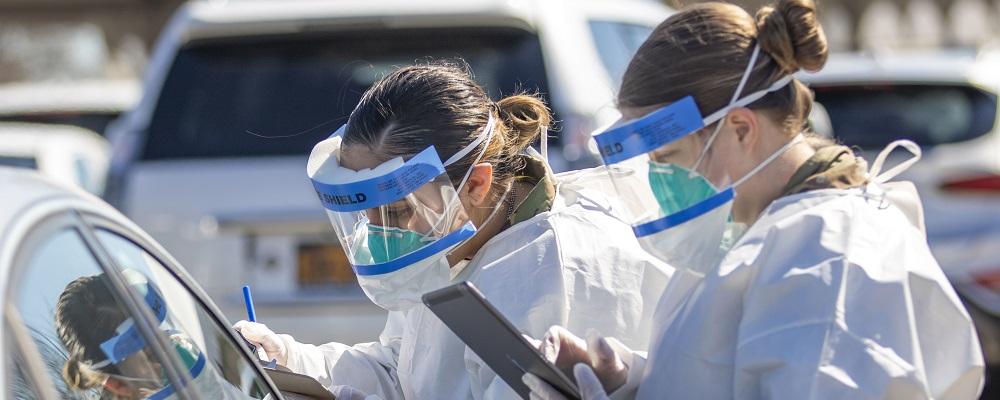 More than 1,500 Guardsmen have been activated to help combat the spread of COVID-19, with numbers growing daily in response to the pandemic.
Air and Army Guardsmen in at least 20 states have been activated, according to the National Governors Association. Fifty states have declared emergencies in response to the deadly virus.
The activations come as other military officials work to safeguard people, missions and capabilities amid the virus's spread.
Officials have curtailed training exercises, introduced telework and limited travel while stressing good hygiene practices.
Meanwhile, Guardsmen are serving on the frontlines of the outbreak.
In Colorado, 145 Guardsmen are assisting state agencies with medical support and logistics of drive-up COVID-19 testing centers.
In New York, 516 Guardsmen are assisting in coronavirus containment efforts, to include logistics and administrative support, drive-through testing, storage and distribution of cleaning supplies, cleaning of public buildings and food distribution.
And in West Virginia, eight soldiers and the state's civil support team are training first responders from around the state and Kentucky on best practices to mitigate exposure to the virus.
Many states expect to mobilize more Guardsmen in the days ahead. Maryland expects to activate at least 2,200 Guardsmen by mid-week. They will help build tents outside of hospitals to triage patients and assist moving quarantined residents.
At the National Guard Bureau, officials are staffing a 24/7 operations center to help coordinate the support.
"Bottom line, our force must remain flexible, innovative and ready to help America mitigate the impacts of this virus," said Gen. Joseph Lengyel, the NGB chief. "I trust the adjutants general in the 50 states, three territories and District of Columbia will continue to make decisions at their level to ensure our force of 450,000 people will be ready when their governors call."
Officials said the Guard's first priority is protecting its people while saving lives.
Sen. Tammy Duckworth, D-Ill., said last week that she is concerned about further use of the Guard and Reserve for coronavirus missions late last week.
Duckworth is a former Guardsman and retired lieutenant colonel who now serves on the Senate Armed Services Committee. She said the Defense Department has not taken proactive steps to ensure the readiness of Guard units should COVID-19 continue to spread.
In a letter to Defense Secretary Mark Esper, she asked the DoD to brief the SASC on preparations, unit readiness, equipment shortfalls and a concept of operations to aid communities before civilian health and emergency infrastructure is overwhelmed.
"As you are aware, National Guard and Reserve engineering, medical, water purification and Chemical, Biological, Radiological, Nuclear and Explosive (CBRNE) units have the capability to play a decisive role in combating the spread of the COVID-19 virus and helping communities weather and recover from any outbreak," Duckworth wrote. "I am concerned the readiness of these units has not been assessed in any systematic fashion to date and that potential preparations for them to activate have yet to be taken."
Other legislators and elected officials have called for more military involvement in response efforts. DoD officials have said they are ready to help, but have limited capability.