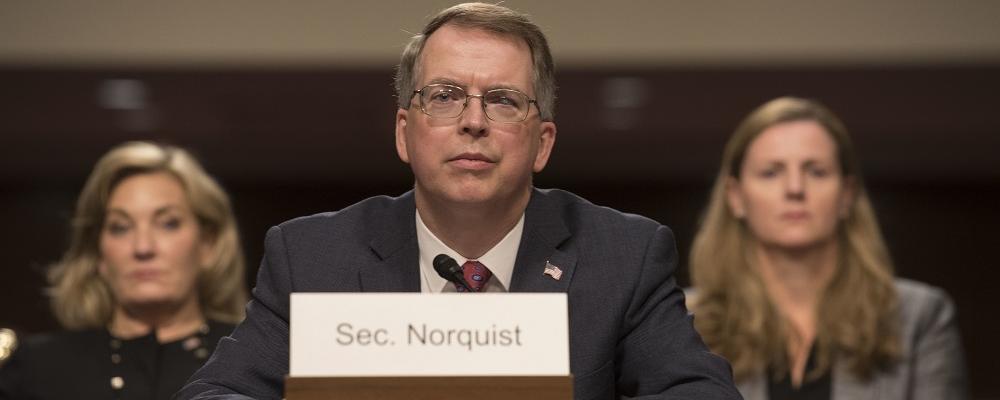 Senators have a long to-do list ahead of a five-week recess, including piecing together some of the final building blocks of a new Pentagon leadership.
In addition to debating a two-year budget agreement that has already passed the House, senators will consider confirmation of a number of military leaders a week after approving a new defense secretary in Mark Esper and a new chairman of the Joint Chiefs of Staff in Army Gen. Mark Milley.
Now, legislators must vote on the nomination of David Norquist, who is President Donald Trump's nominee to be deputy defense secretary. Norquist is currently the Pentagon's comptroller, but was previously filling the deputy defense secretary job on an acting basis.
Last week, Norquist's nomination got the approval from the Senate Armed Services Committee. Senate Majority Leader Mitch McConnell, R-Ky., said confirming Norquist was among the Senate's top priorities before the long August recess.
Other Pentagon positions still up for debate include the vice chairman of the Joint Chiefs of Staff. Air Force Gen. John Hyten was considered for that job during a confirmation hearing before the Senate Armed Service Committee on Tuesday. Hyten recently came under scrutiny for allegations of sexual misconduct and senators heard from his accuser last week.
On Wednesday, the SASC will hold a confirmation hearing for yet another top military official, Vice Adm. Michael Gilday. He has been nominated to be the next chief of naval operations.
Elsewhere, the slate of recent confirmation has set off further changes among military leadership.
Last Friday, Lt. Gen. Joseph M. Martin was promoted to general and sworn in as the Army's vice chief of staff. He replaced Gen. James C. McConville, who will eventually replace Milley as Army chief of staff. McConville has already been confirmed by the Senate.