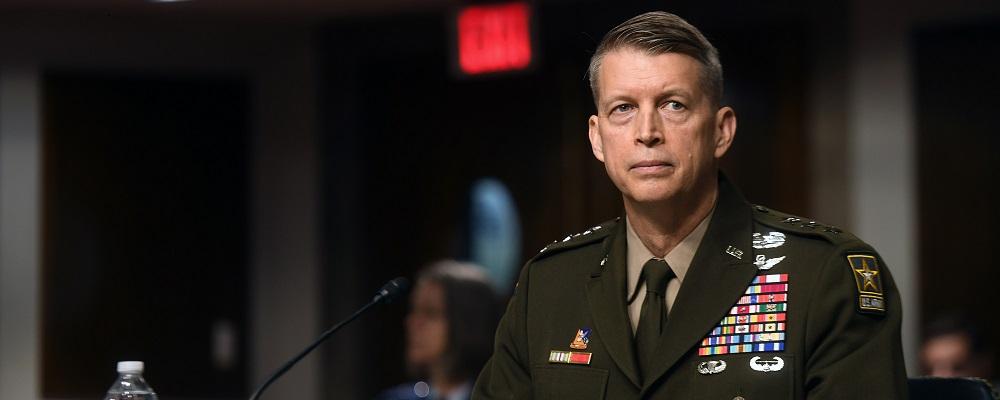 Army Lt. Gen. Daniel Hokanson was confirmed Monday as the 29th chief of the National Guard Bureau by the Senate.
Hokanson, who will also be a member of the Joint Chiefs of Staff, will be promoted to four-star general, the highest-ranking officer in the nation's oldest military force.
He is currently the director of the Army Guard.
Hokanson will succeed Air Force Gen. Joseph Lengyel, who has served as NGB chief since August 2016. A change of responsibility ceremony is expected early August.    
Before taking the helm of the Army Guard in June 2019, Hokanson served as the NGB's vice chief from November 2016. 
The Guard Bureau chief is responsible for ensuring nearly 450,000 Guard soldiers and airmen are ready and able to conduct their combat and homeland response missions. 
The chief also serves as a military adviser to the president, secretary of defense and National Security Council. In addition, he is the Defense Department's official channel of communication to the governors and state adjutants general on all Guard matters.  
A graduate of the U.S. Military Academy, Hokanson served in the active-component Army as an aviator before joining the Oregon Guard in 1995. 
His combat deployments include operations Just Cause (Panama), Enduring Freedom (Afghanistan) and Iraqi Freedom. Hokanson served as Oregon's adjutant general from 2013 to 2015.
"General Hokanson knows the Guard. He knows the Guard Bureau. And he knows Washington," said retired Brig. Gen. J. Roy Robinson, the NGAUS president. "He will be a very effective advocate for Guard soldiers and airmen in the Pentagon. We look forward to working with him."
The Senate's action follows Hokanson's June 18 Senate Armed Services Committee hearing.
"This is an important and pivotal time in the history of our National Guard," he told the committee. "We face complex, dynamic missions overseas and here at home. The next chief of the National Guard Bureau must continue to effectively navigate this unprecedented landscape and work closely with stakeholders at the international, federal, state and local levels."
At a peak last month, more than 120,000 Guard soldiers and airmen were mobilized worldwide, including for domestic responses to the COVID-19 pandemic and civil unrest.
"Our citizen-soldiers and -airmen responded to these and other events in the homeland while simultaneously meeting all overseas deployment requirements in support of the combatant commanders and the National Defense Strategy," Hokanson said.
The Senate also confirmed three other generals to take leadership positions at NGB. 
Lt. Gen. Marc Sasseville, the commander of First Air Force, will become vice chief, a position vacant since Hokanson become Army Guard director.  Maj. Gen. Jon Jensen, the adjutant general of Minnesota, will succeed Hokanson. Maj. Gen. Michael Loh, the adjutant general of Colorado, will be the Air Guard director, succeeding Lt. Gen. L. Scott Rice, who is retiring after 39 years in uniform. 
Jensen and Loh will receive another star.