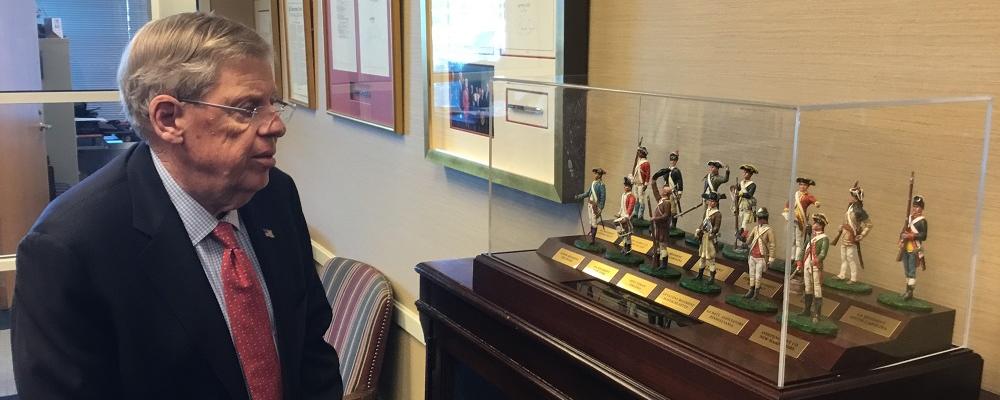 The chairman of the Senate Veterans' Affairs Committee will leave the Senate at the end of this year.
Sen. Johnny Isakson, R-Ga., announced his decision earlier this week. He has been a key leader on veterans issues in Congress for years and has been chairman of the SVAC since 2015.
"After much prayer and consultation with my family and my doctors, I have made the very tough decision to leave the U.S. Senate at the end of this year," Isakson said. "I am leaving a job I love because my health challenges are taking their toll on me, my family and my staff. My Parkinson's has been progressing, and I am continuing physical therapy to recover from a fall in July. In addition, this week I had surgery to remove a growth on my kidney."
Isakson, 74, served in the Georgia Air National Guard from 1966 to 1972 and reached the rank of staff sergeant. Last year, NGAUS bestowed the senator with the organization's highest honor, the Harry S. Truman Award, after winning support for the passage of the Harry W. Colmery Veterans Education Assistant Act, better known as the Forever GI Bill.
That bill extended eligibility for GI Bill benefits to Guardsmen and Reservists mobilized under authority 12304(b) and eliminated a 15-year deadline to use the benefits. It also provided mobilized Guardsmen on medical hold with credit toward educational benefits and granted Purple Heart recipients with full benefits regardless of how much time they spent on active duty.
Isakson was honored alongside the ranking member of the SVAC, Sen. Jon Tester, D-Mont. During his years in the Senate, Isakson has built a reputation for fostering bipartisan support for bills that expand benefits for service members, veterans and their families.
Past Truman Award winners have included U.S. presidents, members of Congress and senior military leaders. The award was created in 1968 to recognize national leaders who have made contributions of exceptional and far-reaching magnitude to the defense and security of the United States.
"Senator Isakson has long been a friend to the Guard. He knows that taking care of troops is as important to our nation's defense as any weapon system or training program," said retired Brig. Gen. J. Roy Robinson, NGAUS president. "As chairman of the Senate Veterans' Affairs Committee, he forged bipartisan collaboration in support of Guardsmen, veterans and their families. NGAUS will miss his leadership and wishes him and his family the best as they focus on his health."
"I will miss his friendship and support of the National Guard," Robinson added.
Georgia Gov. Brian Kemp is expected to name a replacement to fill Isakson's term in the Senate, which was slated to end in 2022.
Isakson said he chose to end his 40 years of elected service in response to mounting health challenges. He was diagnosed with Parkinson's disease in 2013 and, in July of this year, fell and suffered four fractured ribs and a torn rotator cuff. More recently, Isakson underwent surgery to remove a 2-centimeter renal cell carcinoma from one of his kidneys
"It goes against every fiber of my being to leave in the middle of my Senate term, but I know it's the right thing to do on behalf of my state," the senator said.