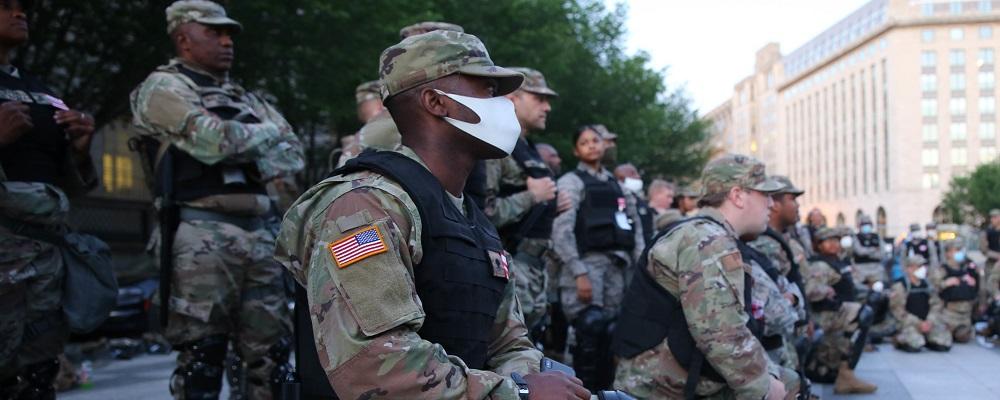 As the National Guard response to nationwide civil unrest continues to grow, top military leaders have offered praise of the force while cautioning against the use of active-duty counterparts.
More than 42,700 Guardsmen were supporting civil unrest missions as of Monday, according to the National Guard Bureau. The efforts are underway in 33 states and the District of Columbia, which hosted thousands of Guardsmen from outside of Washington, D.C. for several days amid a series of massive protests.
Overall, a record 96,561 Guard soldiers and airmen are serving in homeland response missions, according to NGB. That's nearly double the approximately 51,000 Guardsmen activated in 2005 following Hurricane Katrina, which was the previous record.
Missions have spanned every state, with 36,760 Guardsmen still supporting efforts related to COVID-19.
"The National Guard, over the short span of several months, has gone from tackling natural disasters such as floods, to combating the coronavirus across the country, to now dealing with civil unrest in support of law enforcement on the streets of America, all while many of their fellow Guardsmen are deployed abroad, defending against America's real adversaries," said Defense Secretary Mark Esper.
Esper has repeatedly praised the Guard and last week cautioned against the use of active component troops for similar missions.
"I've always believed and continue to believe that the National Guard is best suited for performing domestic support to civil authorities in these situations, in support of local law enforcement. I say this not only as secretary of defense, but also as a former soldier and a former member of the National Guard," Esper said. "The option to use active-duty forces in a law enforcement role should only be used as a matter of last resort, and only in the most urgent and dire of situations."
Esper and Gen. Mark Milley, the chairman of the Joint Chiefs of Staff, have come under fire recently for their role in a presidential photo-op near the White House that was preceded by the forceful clearing of peaceful protesters.
The defense secretary said he was unaware of plans to remove the protesters, adding that Guardsmen were not involved in firing projectiles into the crowd. He said he does everything he can to stay apolitical, but is sometimes not successful.
According to reports, President Trump was on the verge of ordering active-component troops into Washington, D.C., in response to protests. Instead, thousands of out-of-state Guardsmen were brought into the nation's capital. Those Guardsmen began to depart earlier this week.
The nationwide protests are in response to the death of George Floyd, who died while in police custody in Minnesota. They have sparked a nationwide discussion on racism, with largely peaceful protests, marred in some locations by rioting and looting.
Esper said a discussion on race is worthwhile.
"Racism is real in America, and we must all do our very best to recognize it, to confront it, and to eradicate it," he said.
And he reminded the military that they have sworn an oath to uphold and defend the Constitution, which guarantees the freedoms of speech, religion, press, assembly and to petition the government.
"The United States military is sworn to defend these and all other rights, and we encourage Americans at all times to exercise them peacefully," Esper said. "It is these rights and freedoms that make our country so special, and it is these rights and freedoms that American service members are willing to fight and die for."
Esper said Guardsmen are upholding those rights "with the utmost skill and professionalism."
"I am very proud of the men and women of the National Guard who are out on the streets today performing this important task, and, in many ways, at the risk of their own welfare," he said.
In D.C., there are reports that some Guardsmen have had objects thrown at them. One Guardsman suffered a concussion. In other cities, Guardsmen have also faced harassment and projectiles, while some have been praised for their peaceful interactions with protesters.
Other actions have also come under scrutiny, including the use of a Guard helicopter that hovered low over a city block in the District. That incident is under investigation.
"This is a tough time for our great country these days, but we will get through it," Esper said. "My hope is that instead of the violence in the streets, we will see peaceful demonstrations that honor George Floyd, that press for accountability for his murder, that move us to reflect about racism in America and that serve as a call to action for us to come together and to address this problem once and for all."