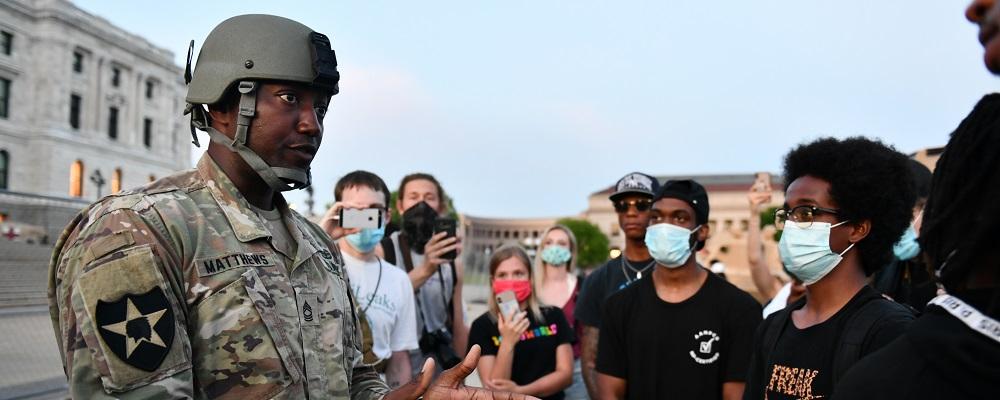 The National Guard is in the midst of a historic domestic response after the total number of Guardsmen mobilized within the United States grew well beyond the previous records set following Hurricane Katrina in 2005.
Governors in 28 states and the District of Columbia have activated more than 20,400 Guardsmen to assist state and local law enforcement. When coupled with the approximately 45,000 Guardsmen still serving on coronavirus-related missions, the total number of Guardsmen activated for domestic operations topped 65,000, according to the National Guard Bureau. 
That's well above the more than 51,000 Guardsmen activated following Katrina.
The civil support missions include protecting critical infrastructure, providing support to law enforcement activities and protecting the life, property and safety of U.S. citizens.
"We are here to protect life and property, and preserve peace, order and public safety," said Gen. Joseph Lengyel, chief of the National Guard Bureau.
The Guard deployments, alongside curfews imposed in major cities across the nation, appeared to have tamped down violence that occurred earlier amid protests that were spurred by the death of George Floyd, a Minnesota man who died while in police custody on May 25.
A video showed a handcuffed Floyd, who is black, face down with a white officer kneeling on his neck for nearly 9 minutes. That officer, Derek Chauvin, has since been charged with third-degree murder and second-degree manslaughter.
Protests over the killing have taken place across the nation. While many have been peaceful, some have resulted in clashes with police, looting and widespread damage to public and private property.
Speaking to members of the media earlier this week, adjutants general in three states discussed the ongoing efforts of Guardsmen in ensuring protests did not turn violent. They included Maj. Gen. Michael Loh of Colorado, Maj. Gen. Thomas Carden of Georgia and Maj. Gen. Jon Jensen on Minnesota.
The generals said Guardsmen were serving in support roles, bolstering local and state law enforcement. In some states, including Minnesota, Guardsmen are armed for their own safety. In other states Guardsmen are armed only with nonlethal weapons.
Carden said he believes that Guardsmen, working with local authorities, can help set the conditions to maintain a safe environment. 
"This is categorically a mission I don't like doing," he said. "But the situation and circumstances called for it. And it has had a significant deterrent and calming effect."
Guard leaders are also battling misinformation, including misrepresentations of Guard activities and videos of police brutality incorrectly attributed to Guardsmen.
Jensen, whose state has the largest Guard response to civil unrest, said he has requested support from neighboring states through the National Guard Bureau. 
States have not requested any support from active component units, the adjutants general said, preferring to turn to the Guard to fill any outstanding needs.
"As a National Guard force, we're very used to working with each other," Jensen said. "We have similar authorities. Title 10 forces do not have the same authorities our Guardsmen have."
In many cities, Guardsmen are also conducting COVID-19 missions, which is further complicating the response. Officials are also taking precautions to prevent spread of the virus, but admit there is added risk among the large crowds of protestors.
Jensen said it was the most complex environment that a Guardsmen could serve in, while in support of their local communities. He said he has been inspired by the efforts thus far.
Loh highlighted the fact that Guard missions are continuing across the globe, even amid the domestic response missions.
"The Colorado National Guard is deployed worldwide today. I have Special Forces in Afghanistan. I have other forces throughout the Middle East and I have aviation in Kosovo," he said. "The National Guard delivers land, air, space and cyber power for America. And then of course we conduct domestic operations here in the homeland.
"We also do homeland defense. I've got three 24/7 missions going on right now to include ballistic missile defense, space warning and aerospace control missions in Colorado," Loh added. "And those are ongoing as well as COVID support and of course taking care of this civil unrest mission.
"The National Guard is always ready, always there. Always will be."