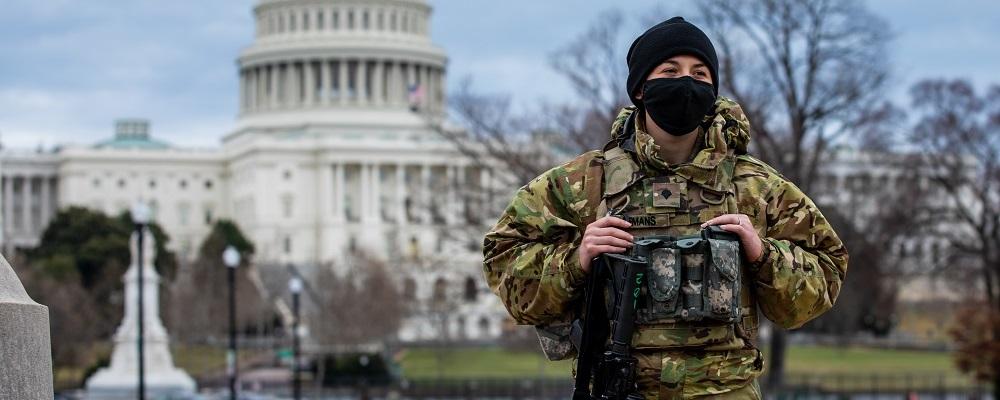 A Republican lawmaker has introduced legislation that would redirect National Guardsmen currently serving at the Capitol to the southern border.
Rep. Greg Murphy, R- N.C., introduced the Guard Our Border Act last week. The bill would reassign 95% of National Guardsmen who are scheduled to arrive in Washington, D.C., and send them instead to the southern border.
Murphy cites a lack of "known, credible threats" against the Capitol and a growing backlog of migrants on the border.
"Our National Guard was formed to respond to states of national crisis in this country," he said. "The Capitol Police have acknowledged that there is presently no credible threat to our nation's Capitol Building. Yet, because of this administration's new policies, there is a national security and public health threat at our southern border."
There are currently 2,300 Guardsmen in Washington, D.C. Meanwhile, 3,500 Guardsmen from 22 states are assisting Customs and Border Protection along the southern border.
The border mission is funded through September, but CBP has asked for that support to be extended. The size of the mission was last changed last summer, when then-Defense Secretary Mark Esper dropped the cap to 4,000 troops, down from 5,500.
As for the Capitol mission, the top Republican lawmaker on the House Armed Services Committee has thrown his support behind a new quick reaction force of Guardsmen to respond to emergencies at the Capitol, according to The Hill.
Rep. Mike Rogers, R-Ala., the ranking member of the House Armed Services Committee, has called for Guardsmen currently deployed to the Capitol to begin returning home. But said he supported the recommendation for a new force that could respond more quickly to future threats on lawmakers.
"One of the things they would like to see is a rapid response National Guard unit, which I'm fine with being remote from the campus," Rogers said. "And I would support that, but that's about as close as need as having Guardsmen around the Capitol."