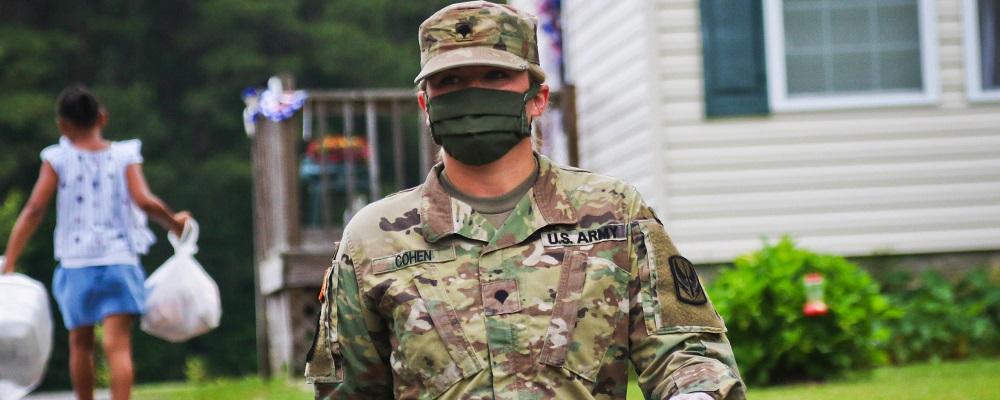 White House officials said President Trump is open to providing additional aid for states still fighting the coronavirus pandemic, even as criticism grows of his handling of an extension of ongoing National Guard missions.
Press Secretary Kayleigh McEnany said the president would support states and local governments, but only for COVID-related matters.
"He doesn't want to bail out blue states that had structural problems long before this," she said. "So that's where his priorities lie."
Trump is under increasing pressure from states and his political adversaries after he extended authorization for the Guard's Title 32 missions connected to pandemic relief, but only agreed to fully fund some of those missions.
Title 32 provides federal funding and benefits for Guardsmen but keeps them under the command and control of their home states. While the authorizations for such missions now last through the end of the year, most states will have to start paying 25% of the costs Aug. 22.
Exceptions were made for Texas and Florida, each of which will continue to receive full funding through the end of December, and for California, Arizona and Connecticut, which will receive full funding through September.
The National Governors Association, which lobbied for an extension of Title 32, has cried foul over the decision to treat states differently amid the global pandemic. The association has called for a "fair and equitable solution to the use of and funding for Title 32."
"Governors appreciate the President's action earlier this week to extend the use of Title 32 through the end of the year," NGA officials said. "States and territories are concerned about the new 25 percent financial burden during a recession that they are required to shoulder while also executing unprecedented responsibility to protect the public health and well-being of constituents."
White House leaders, including Vice President Mike Pence, led a discussion with leaders from the 54 states, territories and the District of Columbia on Monday. The discussion included a briefing by Gen. Daniel Hokanson, the chief of the National Guard Bureau.
The administration's handling of the Title 32 extension has drawn criticism from Democrats in Congress and his presumptive opponent in this year's general election.
In a joint statement released Tuesday, Sen. Jack Reed, D-R.I., and Rep. Adam Smith, D-Wash., said the decision to only partially fund Guard deployments had "no logical justification."
Reed is ranking member of the Senate Armed Services Committee. Smith is chairman of the House Armed Services Committee. Both are Democrats.
"The National Guard continues to play a vital role supporting COVID-19 responses in every state, Washington, D.C., and three territories, yet President Trump has found their ongoing missions unworthy of full Federal support," they said. "Pulling full Federal funding for National Guard missions, as states are working to address the pandemic and reopen their communities, is irrational and simply unacceptable."
The presumptive Democratic nominee for president, Joe Biden, has also taken the president to task.
"At a time when the states are suffering dramatic revenue losses as a result of Trump's catastrophic COVID-19 response, this is no time to place new fiscal burdens onto the states by reducing federal funding for the National Guard," Biden told Politico.
More than 20,000 Guardsmen continue to serve in coronavirus response missions, which include running community-based testing sites, distributing food and medical gear, and disinfecting nursing homes.