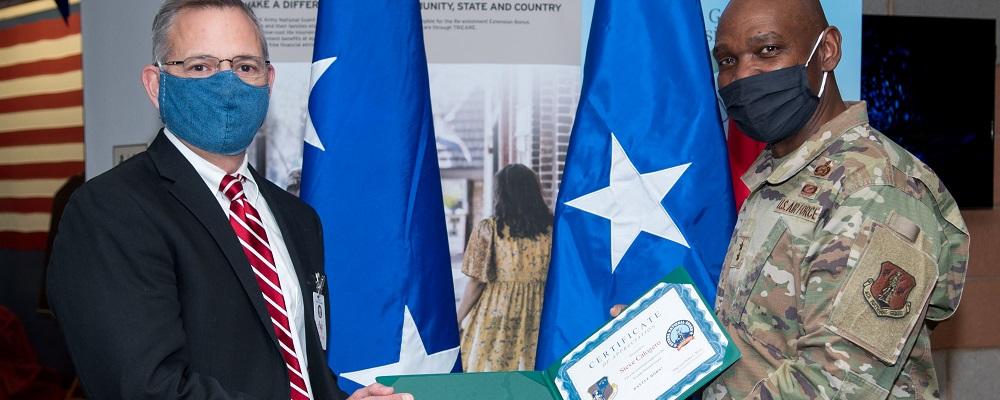 The week of Aug. 15-21 has been declared National Employer Support of the Guard and Reserve Week, according to the White House.
President Joe Biden signed a proclamation praising the support given to National Guard and Reserve families last week, and called on "the people of the United States, State and local officials, private organizations and all military commanders to honor employers of National Guard and Reserve members with appropriate ceremonies and activities."
"Since our founding, courageous men and women have vowed to serve and defend our country, protect our citizens and uphold the principles of our Constitution," the president said. "The citizen soldiers and airmen of the National Guard, and the soldiers, sailors, airmen, Marines and Coast Guardsmen of the Reserve, proudly carry on this tradition today."
Those efforts are supported and sustained by civilian employers, Biden said. And those employers directly contribute to military readiness and national security.
"National Guard and Reserve members are essential to the safety and security of our nation, ready to serve at home or abroad at any moment's notice. From working on the frontlines of the COVID-19 pandemic, to responding to storm damage and raging wildfires, to deploying overseas, supporting peacekeeping missions abroad, and conducting multilateral exercises with allies and partner nations, National Guard and Reserve members put their lives on hold — away from both their families and their civilian workplaces — to stand as a shield or a support whenever our country is in need."
Biden said Guardsmen should not have to worry about civilian employment while serving their state or nation. And many employers have stepped up with generous pay and leave policies, extension of benefits and flexibility and support for Guardsmen and their families.
He said his administration is committed to supporting military and veteran families through economic and entrepreneurship opportunities, support for military child education, and health and well-being resources.
"The Biden family is a National Guard family, and we are forever grateful and in awe of those who, like our son Beau, understand that duty and service to others is what makes us who we are as Americans," Biden said. "We understand some of the unique challenges that National Guard and Reserve members and their families face – challenges that are made smaller because of the incredible, patriotic support of their employers."