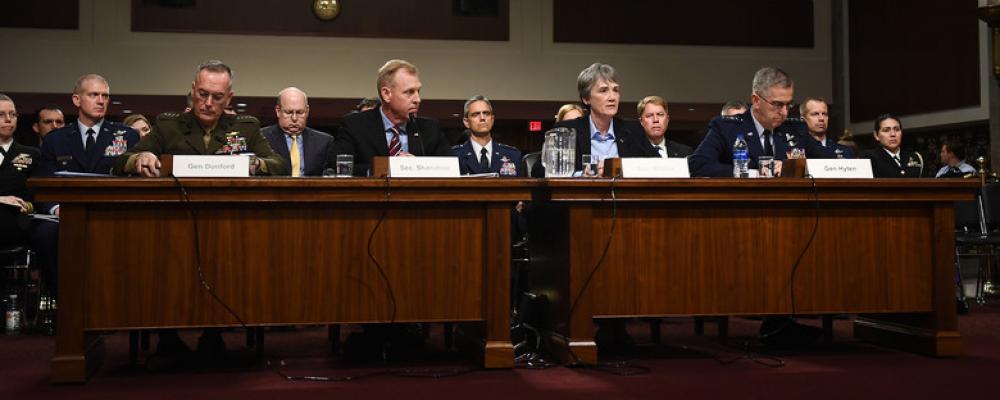 A Senate Armed Services Committee hearing with senior defense leaders showed the Pentagon has a ways to go before swaying Congress to add a sixth military service.
Sen. Jim Inhofe, R-Okla., the committee chairman, said the panel came with an open mind on the proposed Space Force and was not there to "score political points."
There appears to be bipartisan support from the committee to create a Space Command, but both Republicans and Democrats had skeptics on the worth of creating a new service.
In a prepared readout, Acting Defense Secretary Patrick Shanahan said the hearing "is the Department's opportunity to sell SASC on the Space Force."
The current proposal for Space Force would include 16,500 personnel, including 1,000 officers in the headquarters alone. In all, the new branch would have the highest officer-to-personnel ratio in the military.
Sen. Jack Reed, D-R.I., the ranking Democrat on the committee, expressed concern that the Space Force's proposed structure limits its officer pool largely to the Air Force. In addition, he said the number of officers "would just add bureaucracy without effect," and asked if there was any possibility of creating a leaner structure.
Shanahan said the top-heavy structure was required to stand up the new service, but there would be a reduction in expenses over time.
Another point of debate is the lack of details on Guard and Reserve roles in the Space Force.
"[DoD] does not have a plan for the National Guard and Reserve," said. Sen. Joe Manchin, D-W.Va., noting the Pentagon pushed the issue to fiscal 2021.
In response, Gen. Joseph F. Dunford Jr., the chairman of the Joint Chiefs of Staff, said the force "has to start from somewhere."
"There are a number of issues unresolved," he explained, "and the real question in front of the committee is: Do we stand up that organization and get that four-star leader singularly focused on what the right organizational construct is, or do we wait for the perfect organizational construct to stand it up?"
"What I felt was to move out and refine as we go, and the committee will have plenty of time to provide oversight," the general added.
But many of the senators were not swayed.
"Unless … we're going to have a large number of actual soldiers in space fighting and they need a different set of skills, this is primarily going to be about technology and acquisitions," said Sen. Tom Cotton, R-Ark.
"I think what a lot of us on the committee are trying to figure out is what's the incremental advantage of having a separate Space Force — like the Marine Corps is to the Navy — within the Air Force, as opposed to say the Air Force having the training and equipping function that the five services have."