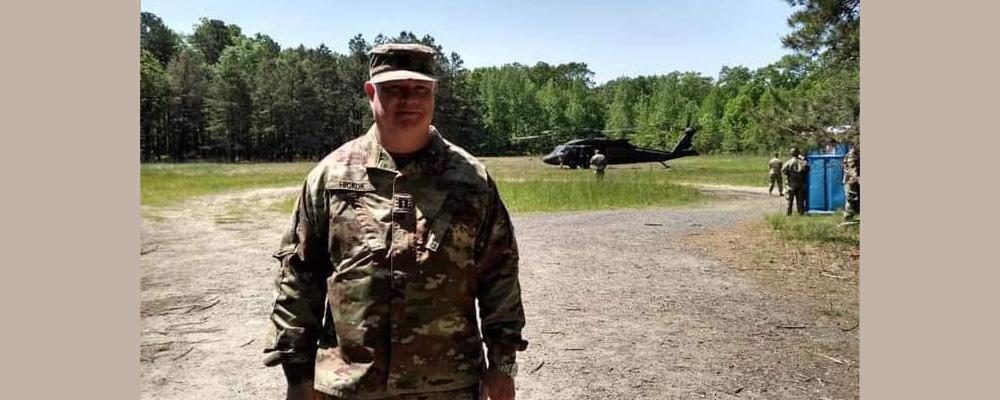 A New Jersey Army National Guardsman is the first U.S. service member to die from COVID-19, officials announced late Monday.
Capt. Douglas Linn Hickok, a traditional Guardsman and physician's assistant originally from Jackson, N.J., died on March 28, New Jersey Gov. Phil Murphy announced during an update of the state's efforts to combat the ongoing pandemic.
Hickock is survived by a wife, Marianne, and four children. He was living in Pennsylvania, Murphy said, and had been hospitalized in that state since March 21.
The governor said he was heartbroken by the news. Other leaders also offered words of condolences.
"This is a stinging loss for our military community, and our condolences go out to his family, friends, civilian co-workers and the entire National Guard community," said Defense Secretary Mark Esper. "The news of this loss strengthens our resolve to work ever more closely with our interagency partners to stop the spread of COVID-19."
Officials did not say whether Hickok was serving on Guard duty at the time he contracted the virus, which has infected more than 160,000 people in the United States.
As of Monday morning, those numbers included 569 service members, including at least 26 Guardsmen. The total number of cases, including Defense Department civilians, dependents and contractors, was more than 1,087.
Esper said DoD has adopted dramatic mitigation measures to protect service members, civilian employees, contractors and their families. These include mandating social distancing and stopping certain work and training activities.
Gen. Joseph Lengyel, the chief of the National Guard Bureau, said he was deeply saddened by the loss.
"All of us in the National Guard are grateful for his service to our nation, as a citizen and as a soldier," the general said.
"All of us are likely to know people directly affected by this virus in the coming weeks," Lengyel added. "As our nation fights its greatest challenge in recent memory, we are all going to need to draw on our inner strength and resilience to win this war and comfort those in pain. We will prevail — and we each must bring our best selves to the task every day to overcome this as fast as possible for our great country."