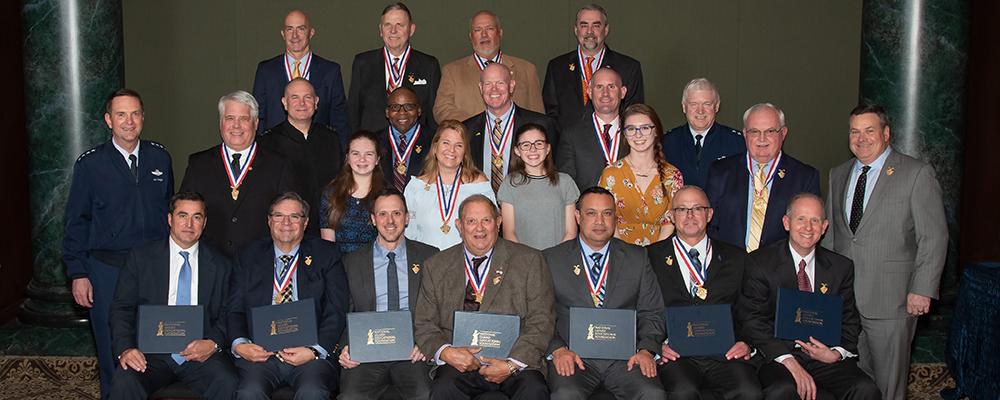 The National Guard Educational Foundation recognized 14 individual or corporate donors Nov. 17 during a special reception at the National Guard Memorial, the NGAUS headquarters in Washington, D.C.  (photos)
Each of the 14 recently contributed $10,000 to the NGEF through its Legion de Lafayette (LDL) program, which is reserved for its largest benefactors.
The NGEF preserves and shares all 382 years of the Guard's story. Among its programs is the National Guard Memorial Museum, which boasts 5,600 square feet of artifacts, images and interactive exhibits. 
This year's benefactors included one couple, three other individuals and 10 corporations. 
The couple was retired Brig. Gen. Joel and Nancy Seymour of Georgia. They were adding to a previous $10,000 donation. The general said they were giving back for the opportunities the Guard provided him and his family.    
"The Guard provided me with endless opportunities to advance my knowledge and hone my leadership skills," he said. "Along the way, membership in the Guard allowed me to pursue my dream of obtaining degrees, to grow in the community and to help my children." 
Retired Col. Kimo Bacon of Hawaii, retired Brig. Gen. Gary Pendleton of North Carolina and retired Col. Jace Sotomayor, who served in the active-component Air Force, were all making their first contributions.
Four of the 10 corporations honored were following up previous $10,000 donations to the NGEF. They were Airbus Group, Northrop Grumman, Sikorsky and USAA. 
Sikorsky, a Lockheed Martin company, has now contributed more than $250,000 to the NGEF through the LdL program, making it the NGEF's largest corporate contributor. 
"We are honored to support the effort to preserve the National Guard's history and educate Americans about the heritage and contributions of the National Guard," said Tom Nicolett, the manager of Sikorsky's National Guard strategy and business development department.

Corporations making initial donations were Bridgestone, Elbit Systems of America, Eldorado Resorts Inc., Phantom Products, Reno Sparks Convention and Visitors Authority, and UTC Aerospace Systems.
"In appreciation and recognition of the men and women who wear the uniforms of the Army and Air National Guard," said Ted Fordyce, the vice president of Elbit's Washington operations, "Elbit Systems of America is honored to support the National Guard, the National Guard Education Foundation, and is proud to join the Legion de Lafayette."