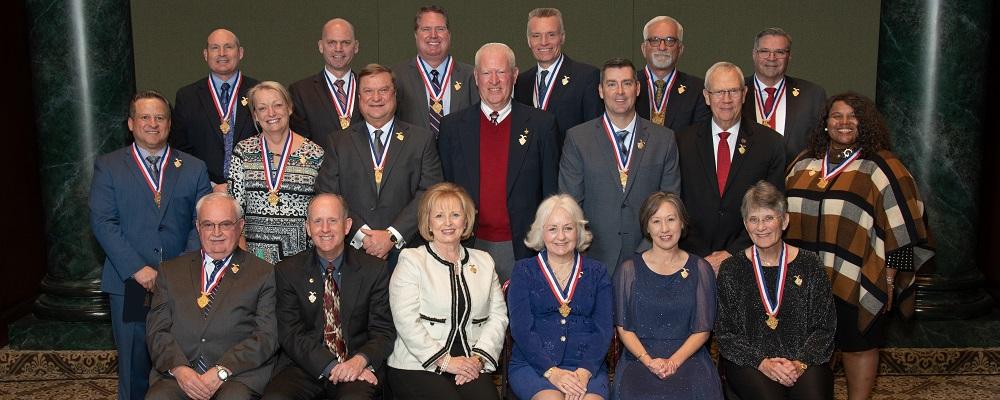 The National Guard Educational Foundation recognized 14 individual, organizations and corporate donors Nov. 16 during a special reception at the National Guard Memorial, the NGAUS headquarters in Washington, D.C.
The 14 recently contributed a combined $160,000 to the NGEF through its Legion de Lafayette (LDL) program, which is reserved for gifts of $10,000 or more.
The NGEF preserves and shares all 383 years of the Guard's story. Among its programs is the National Guard Memorial Museum, which boasts 5,600 square feet of artifacts, images and interactive exhibits.
Recent benefactors included an adjutant general, four couples, one Guard state association and eight corporations.
One of the couples was retired Maj. Gen. Harry Feucht and his wife, Mary. They dedicated their donation to her father, the late Brig. Gen. Edward J. Power.
"Ed served in uniform for over 40 years," Harry Feucht said. "He flew 28 combat mission over Germany in World War II, commanded at the wing level, served as president of the Ohio National Guard Association and retired as Ohio's assistant adjutant general-Air in 1983."
Other couples recognized for their donations were Lt. Cols. Mike and Tammy Culley of Arkansas; retired Brig. Gen. Murray Hansen, a former NGAUS secretary, and his wife, Sharron; and retired Maj. Gen. Raymond F. Rees, a former National Guard Bureau chief and adjutant general of Oregon, and his wife, Mary Len.
The NGEF also recognized the financial contributions of the adjutant general of Louisiana and the National Guard Association of Louisiana — Team Zydeco.
The corporate contributions included six making additions to previous gifts and two making a first donation.
Sikorsky, a Lockheed Martin Company, was among those adding to previous donations. The manufacturer of the UH-60 Black Hawk helicopter is the NGEF's largest corporate benefactor, having contributed $250,000 over the last 22 years.   
"We are honored to support the effort to preserve the National Guard's history and educate Americans about the heritage and contributions of the National Guard," said Tom Nicolett, the manager of Sikorsky's National Guard strategy and business development department.
Airbus, AT&T, Northrop Grumman and USAA also added to earlier donations. The NGEF recognized General Atomics Aeronautical Systems and Eldorado Resorts, Inc. for initial contributions to the foundation.