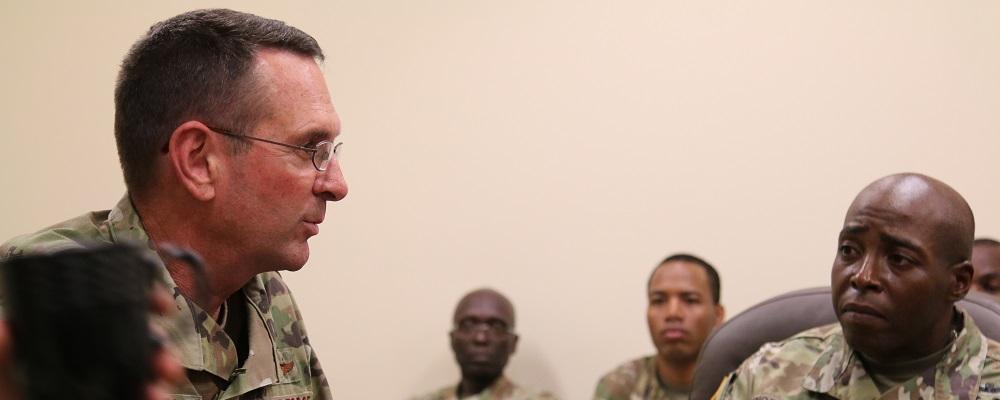 The president or the nation's governors have called out roughly 120,000 National Guard soldiers and airmen for duty across the country and around the world.
The coronavirus pandemic and recent civil disturbances were the two big sources of the mobilizations. There have also been floods in Michigan, wildfires in Kansas and tornadoes in Tennessee along with global military operations. 
But with COVID-19 cases on the rise in some states, no reduction to worldwide operational commitments and hurricane season just started, the retiring chief of the National Guard Bureau said he sees no reduction in operations tempo in the months ahead.
"It has been a crazy year, and it's just early July," Air Force Gen. Joseph Lengyel said during a Brookings Institution webcast July 2 titled "The Force America Needs: Lessons of 2020 and the Future of the National Guard."
More than 45,000 Guardsmen have been assisting with COVID-19 mitigation efforts in every state and territory since the pandemic started, the general said. Another 45,000 supported the law enforcement response to civil disturbances in 33 states last month.
"All across the country, the National Guard was aiding the American people, delivering personal protective equipment, and in some cases, they were manufacturing personal protective equipment, staffing food banks and test centers, protecting peaceful protesters' First Amendment rights, and sharing best practices as we learn how to do some of these things," Lengyel said.
President Trump has praised the Guard's performance in helping to control the sometimes-violent protests, but Lengyel said the task is the force's most difficult domestic mission. 
"Frequently, there are members of one family on one side of the line and other members dressed in civil riot gear on the other side," he said.
"In my opinion, uniforms, I don't care what flavor they are — Title 10, active-duty, National Guard, Reserve — uniforms being out there in law enforcement situations is not optimal," he said. "We should do as little of it as we can, and it should be predominantly a law enforcement, police operation. And when they need us, we can and we will come. But we should do what we can to avoid that."
Lengyel, who retires next month after 39 years in uniform, also used the event to push again for the creation of a Space Guard to back up the new U.S. Space Force. 
"We're in historic times as we stand up another service … [There are] advantages to taking the model of the National Guard and leveraging that in creating a space National Guard component of the Space Force," he said. 
The Guard has been part of the space operations of the Air Force and the Army for the past 25 years, Lengyel said. "That's got to remain the same" in the new Space Force.
Pentagon officials have said they are still studying the concept of a Space Guard.