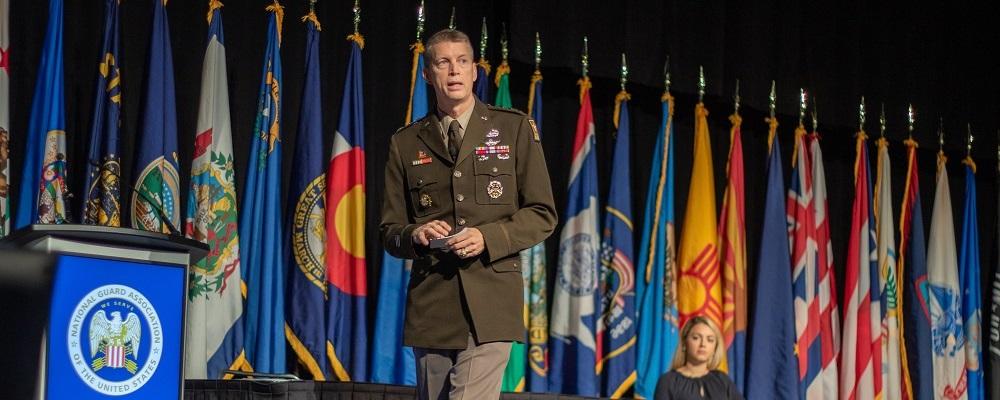 The nation has asked a lot of its National Guard over the past year.
On Tuesday, the Guard asked the nation for more support, with the chief of the National Guard Bureau testifying to a key House committee that helps set the defense budget.
Gen. Daniel R. Hokanson appeared before the House Appropriations Subcommittee on Defense for the first time in his tenure as the Guard's top officer. He spoke of the successes of a year dominated by numerous domestic and overseas missions for the Guard, as well as shortcomings the Guard wants to address in the future.
He advocated for protecting Guard capabilities, improving facilities and providing pay and benefit parity with active-component forces. And highlighted three of his most pressing concerns. They are:
Providing premium-free health care for every Guardsman in uniform;
Establishing a Space National Guard; and
Elevating the rank of six Guard general officers commensurate to the level of their responsibilities and authority. The six general officer positions include the vice chief of the bureau and five joint directors.
Hokanson, who became NGB chief in August, said "these are not only strategically important issues, they're just the right thing to do."
The defense subcommittee plays a key role in Guard funding, including by providing the National Guard and Reserve Equipment Account and other congressional add-ons to the defense budget.
Several members expressed concern that the Guard historically pays for flat or decreasing defense budgets.
"The Guard often ends up being the billpayer when the budgets are tight and I suspect this year's will be real tight," said Rep. Ken Calvert, R-Calif., the subcommittee's ranking member.
Members quizzed Hokanson on the impact of ongoing missions, including the COVID-19 pandemic and what capability gaps exist that the subcommittee can address.
Calvert said he struggled to think of another time in American history where the Guard has been asked to do so much, amid such a range of missions.
Rep. Betty McCollum, D-Minn., the subcommittee chair, said the members were particularly interested in how the "seemingly endless calls to duty" are impacting morale, readiness and retention across the force.
Hokanson said the Guard's work was both important and inspiring. He noted that more Guardsmen mobilized last year than at any time since World War II and highlighted several ongoing missions, ranging from overseas deployments to domestic responses.
He also noted that the Guard's role as an operational force would be impossible without the defense appropriations subcommittee's work, which has helped provide facilities, equipment and training resources to ensure the Guard is interoperable on the battlefield and responsive in their communities.
But, Hokanson said there "are still places we fall short."
"Our equipment must be deployable, sustainable and interoperable. Our facilities must be repaired or replaced if they're no longer functional. And our level of full-time support must increase so we can become more efficient and effective," he said.
Hokanson said health care was needed to ensure a ready force, noting that many members of the Guard lack health care coverage when off orders. McCollum said the subcommittee would have a panel to address that issue in the future.
The chief also indicated that a decision on a Space National Guard may be near.
Hokanson said he is set to meet with Air Force and Space Force leaders this week before a meeting with Defense Secretary Lloyd Austin. He said the Air Force secretary and chief of space operations agree there should be a Space National Guard.
Other questions focused on extremism in the force, at-risk Guard capabilities and the border mission.
"I do not see it as very pervasive," Hokanson said of extremism. "However, any case at all, as far as I'm concerned, is unacceptable."
And he advocated for Air Force leaders to consider the Guard's domestic missions when looking at its aircraft fleets, including C-130s.
"It's important that we retain every single one of those flying squadrons," Hokanson said.
Asked if he feared the Guard could suffer under a flat budget, Hokanson warned that any flat or reduction in funding would have an impact on readiness, equipment and facilities maintenance, but also said there could be opportunities to for increase Guard force structure if capabilities are moved from the active component into the National Guard or Reserves to maintain them at lower cost.
The Guard met every mission requirement in 2020, Hokanson noted. But was often undermanned or working in aging facilities.
More than 30% of the Army Guard's armories are over 60 years old. And the force lacks the full-time support needed to make it more efficient and effective with the resources its provided.
While the Air Guard is 30% full-time, the Army is only 16%, Hokanson said. That meets only about 64% of the established requirement.