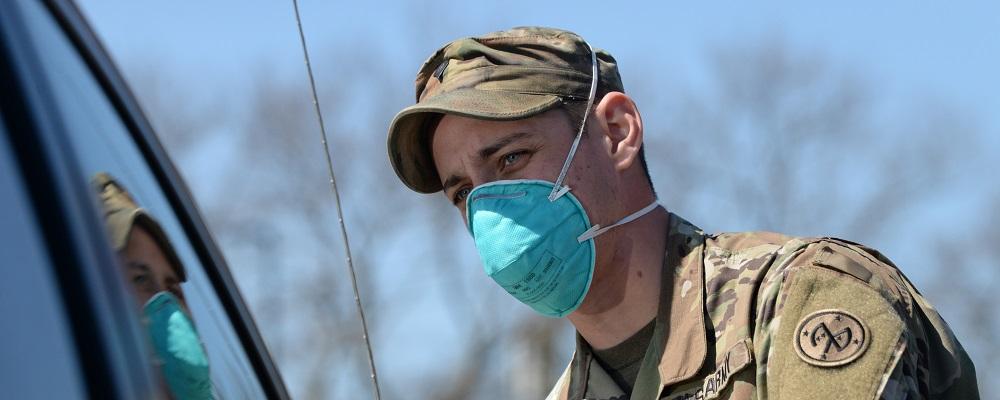 NGAUS and its legislative partners are pushing the Trump administration to extend federal orders for Guardsmen fighting the COVID-19 outbreak to allow those Guardsmen to qualify for TRICARE medical coverage.
Guardsmen must be on federal Title 32 orders for at least 31 days to qualify for TRICARE, but authorities are currently only allowing states and territories to put their Guardsmen on orders in increments of 30 days.
"They can go to military treatment facilities if they are hurt or fear they are infected with the coronavirus, but most are not serving near such a facility," said retired Brig. Gen. J. Roy Robinson, the NGAUS president, in a statement last week. "Only TRICARE would enable them to go to local doctors and hospitals without digging into their own pockets or using their own private coverage. This has both immediate and potential long-term consequences."
As of Sunday morning, nearly 22,000 Guardsmen are supporting COVID-19-related missions. About a third of those Guardsmen were serving under Title 32 orders.
NGAUS has pushed for the use of such orders, which provides federal pay and benefits while keeping Guardsmen under the command of their governors. But actions to date stopped short of extending full benefits due to a 30-day limit on Federal Emergency Management Agency-approved missions.
As of Monday, 21 states, two territories and the District of Columbia had been approved for some Title 32 missions, with another 20 requests moving through the approval process.
Most Guardsmen continue to serve on state active duty as Title 32 orders slowly grow. Pay and benefits for such orders vary from state to state.
Late last week, NGAUS repeated calls to expand Title 32.
"This action covers the troops' pay, while keeping them under the command of their governor, who knows best how to employ them in this crisis," Robinson said. "It was also supposed to provide health care in the form of the military's TRICARE medical coverage. Unfortunately, that is not happening."
"COVID-19 is the nation's greatest public health crisis in more than a century," Robinson added. "The president says we are at war. Guardsmen on the front lines of this fight need our nation's full support. They are not getting it."
In addition to NGAUS, lawmakers have also joined the call for closing the health care gap for Guardsmen battling the coronavirus.
Sen. Tammy Duckworth, D-Ill., and Sen. Steve Daines, R-Mont., each sent letters to President Trump late last week.
"I write to ask for your support in ensuring any mission activation for National Guard members lasts longer than 30 days or provide equivalent flexibility so they are eligible for TRICARE," wrote Daines. "As you are aware, COVID-19 is an ongoing pandemic that has the ability to spread rapidly with a concerning mortality rate. Day by day, increasing numbers of our National Guard are asked to support the national effort to address this crisis. Many of our Guardsmen and women have lost their jobs during this unprecedented situation. During this time, we should do all we can to support the men and women being asked to assist our nation's response to this pandemic and ensure that they are put on orders long enough to make them eligible for TRICARE."
Duckworth was joined by Sen. Richard Blumenthal, D-Conn.; Sen. Jeanne Shaheen, D-N.H.; and Sen. Joe Manchin, D-W.Va.
In their letter, the senators said extending orders and providing TRICARE would provide "peace of mind for our troops and a steady state to enable our governors to continue to respond to this crisis."
"Our National Guard troops are among the front-line workers in this pandemic, working to keep their communities and their Nation safe and healthy," they said. "We must make sure they receive the fullest protection and benefits available to them by law."